Since the start of the COVID-19 pandemic, Community Health Centers (CHCs) have been key to ensuring everyone can access affordable, quality healthcare, during and beyond the pandemic. They are locally run. They save American taxpayers $24 billion a year in health care costs by preventing and managing chronic diseases. CHCs are not ordinary medical clinics; they are also problem-solvers who reach beyond the exam room to care for the whole person and community by providing access to necessities like food and housing resources.
Adams County Health Center Inc. cares for everyone, regardless of insurance status. As unemployment rises and more Americans lose their employee sponsored health care, Community Health Centers will be the key to keeping America healthy. Health centers provide tremendous value and impact to the communities they serve, including JOBS and ECONOMIC STIMULUS, SAVINGS to Medicaid, and ACCESS to care for vulnerable populations.
Adams County Health Center Inc. must assess the needs of underserved populations and design programs and services which are culturally appropriate to those populations. With constant costly repairs to the building infrastructure, such as plumbing issues with a concrete floor, patient treatment rooms being small and hard to navigate for wheelchair access and many other issues in the building of the Health Center we have had to make the nerve wracking but very exciting decision to build an entire new Health Center. In order to survive and thrive well beyond the pandemic, while we are actively applying for grant and loans finding funding for the infrastructural problems of our outdated building, we need your help to make our efforts go even further! Unfortunately, we are still lacking the appropriate funding of $180,000.00 for the proposed community meeting room/conference room. Your support is crucial to our efforts to fund and build the community meeting room/conference room.
If you're able, we'd love it if you could make a tax-deductible donation to help us achieve our mission.
Thank you in advance for your contribution.
Here are the ways you can make a donation:
— Make a donation online at [https://achcid.org/donate]
— Call us at 208-253-4242
— Mail your Donation Check to ACHC PO Box 428, Council, ID 83612 (no cash, please!)(write donation in memo)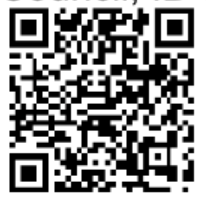 — Scan the QR code with your smart phone camera

Thank you for your time and consideration of this request.
Sincerely,
Kim R. Smith Mary Ann Domecq
Chief Executive Officer Chief Financial Officer
Project Funding Information:
Budgeted cost to construct an approximately 10,000 square foot building will be $3,865,062.  Funding obtained:
 HRSA CADRE grant:                         $1,000,000 over a three-year period beginning 9/1/2020
 Sunderland Foundation:               $ 500,000 in grant funds for construction.