Since the passing of Oval Metcalf, former owner of Chris' Book Corner, retired librarian Nicole Sharp has taken over as the new owner.  "Oval knew where everything was," Sharp said, but unfortunately no one else knew the "method of madness" like Oval did.  It is now Sharp's mission to bring more organization and order to a terrific bookshop space.
We recently reached out to Sharp to find out what exactly she has been up to. Right now, the main focus is cleaning up the store and re-organizing to get most of the stacks of books off the floor. Some sections are being combined, expanded, and changed around to make books more accessible and easier to find. One section that is expanding is the inspirational fiction, which is a big seller, explained Sharp.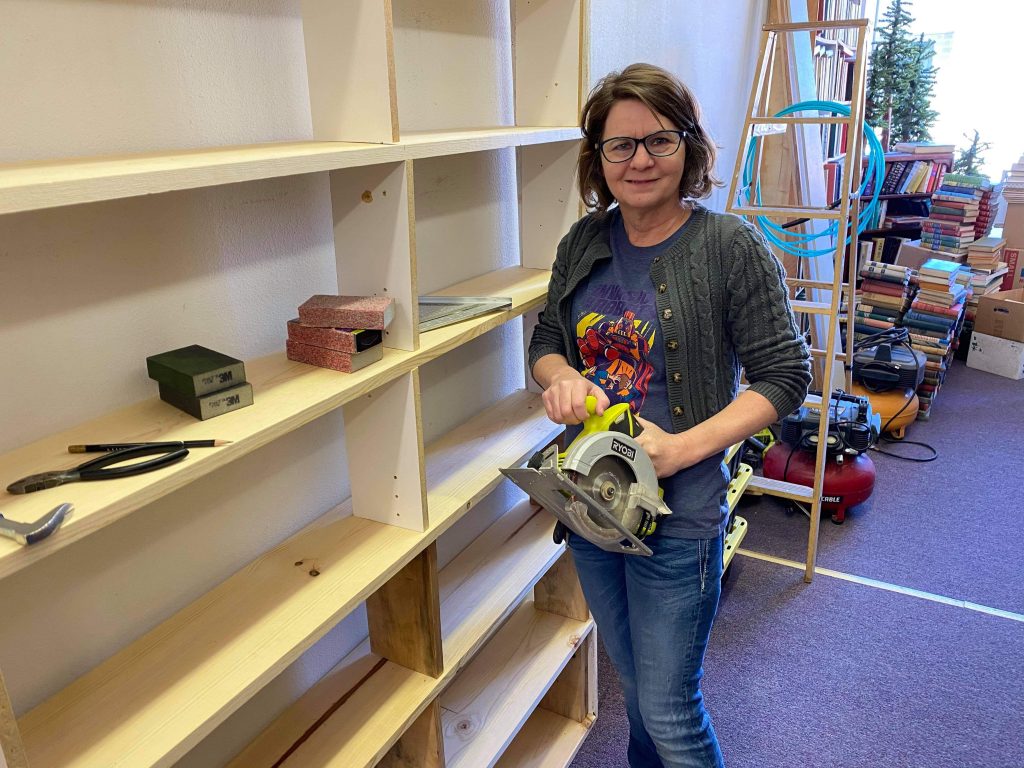 Back in January, Chris' Book Corner Facebook page announced new lower prices. Sharp commented that she has reduced the prices on books as part of the changes happening. Children's books have been moved closer to the front of the shop to encourage younger customers to come in and browse books. Expanding on the kids' section is another goal for the shop.
With the help of others, Sharp has also been installing new bookshelves because some of the old ones were breaking down. With books being cleared off the floor and organized on new shelving, customers will be pleased to see more open space and room to roam. Sharp has a vision to create more customer-friendly places that include chairs or benches to sit on. Special features will also be cropping up to showcase an author and bring more attention to different genres of books. For example, right now folks will see a Titanic display on one end of a bookcase. Sharp is planning to feature employee recommendations and customer recommendations as well.
In addition to combining sections and featuring various genres and authors, Sharp has been purchasing new releases that might interest the younger crowd. Newer releases that are popular, and not already at the shop, will be ordered in and placed in a "new arrival / fiction" section. If customers have a request or an interest in a particular author, Sharp said she is open to suggestions for future orders. Her hope is to encourage a wider customer base to visit the shop regularly.
After the clean-up is finished and organization has been completed, Sharp plans to look into selling books online as well. Starting with some of the older books that are harder to find and stored away right now, she has a plan to list these books online. This will require some research into which platform would be most effective.
Lastly, Sharp has been finding ways to give back to the community through the love of books. Recently, she noticed a ratty old library book that was being toted around by an employee's son. After speaking with the librarian at the Pioneer School on how she could help update the library books, Sharp decided to donate duplicates of books that are in better shape. She plans to continue doing this as a way to help keep nice copies of books at the school library, since funding is tight. Another way Sharp has given back to the community is through a donation to Weiser Care of Cascadia. Tiffanee Henson, activities director at Weiser Care of Cascadia, shared a photo of their mobile library cart full of new titles that were donated from Chris' Book Corner. The staff and residents are appreciative of the generous donation of reading material to their facility.
Be sure to stop in and say hello to Nicole at Chris' Book Corner and check out all the new changes happening!
Chris' Book Corner
322 State Street
Weiser, ID 83672
208-549-8198
Email: thebookcorner322@gmail.com
Store Hours: M-F 10am to 5pm, Sat. 10am to 4pm, Closed Sundays