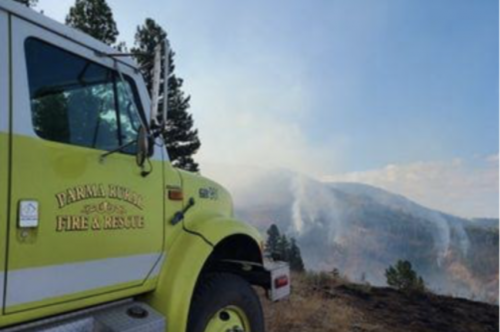 Published on Monday, September 21st, 2020 at 9:19am
Clear skies allowed helicopters and aerial observers to operate on the Woodhead Fire yesterday. Smoke columns were visible in several locations during the afternoon, but there was no measurable fire growth to the perimeter. There is a lot of unburned vegetation within the fire perimeter, which means that smoke will be visible on the fire until significant rain or snow occurs. The Council-Cuprum Road is now open between Council and Upper Dale. Adjacent lands managed by the Payette National Forest and Idaho Department of Lands remain closed.
Cooler temperatures and higher relative humidity are slowing the fire's progress and giving firefighters greater success. The reduced fire behavior allowed fire managers to send one crew to assist with a new fire near Lowman with the intention of containing it quickly. Another crew arrives today to replace it.
Yesterday, helicopters were used to drop water buckets on the northwest corner of the fire, where the fire was most active and the access for firefighters is the most challenging. A helicopter transported firefighters to Buck Park to suppress hot spots around the structures. On the eastern edge, dozers completed contingency fireline that has been in progress for four days. It stretches from Hornet Creek to Turkey Track, connecting existing roads, and then continues across the southern boundary of the Payette National Forest to Rush Creek. This fireline gives firefighters an advantageous location to contain the fire should it resume spread to the east.
EVACUATIONS – Evacuations are still in place for Ditch Creek, Wildhorse, and Crooked River. Residents may be escorted in to care for animals; contact the Adams County Sheriff at 208.253.4227. The Red Cross is available at 800.853.2570 to assist evacuees.
CLOSURES – The Council-Cuprum Road is still closed above Upper Dale. The Idaho Department of Lands asks that everyone stay out of the endowment lands west of Council for their safety until further notice. And the Payette National Forest's full closure description and map are available athttps://inciweb.nwcg.gov/incident/closures/7163/. Although Highway 71 and adjacent county roads are open, the burned area remains closed for safety.
MAPS – Daily maps are posted at https://inciweb.nwcg.gov/incident/maps/7163/. And an animated map of the fire's progression is also available at https://arcg.is/0vjjL1.