By Dorothy Evans
Weiser, in partnership with the American Red Cross, held its quarterly blood drive in the Vendome on August 4. Due to an increase in Red Cross staff and equipment, 80
donors (the largest August turnout in many years) were processed quickly and without wait times. Donor turnout is normally lower in the summer so we were pleased that so many attended the drive.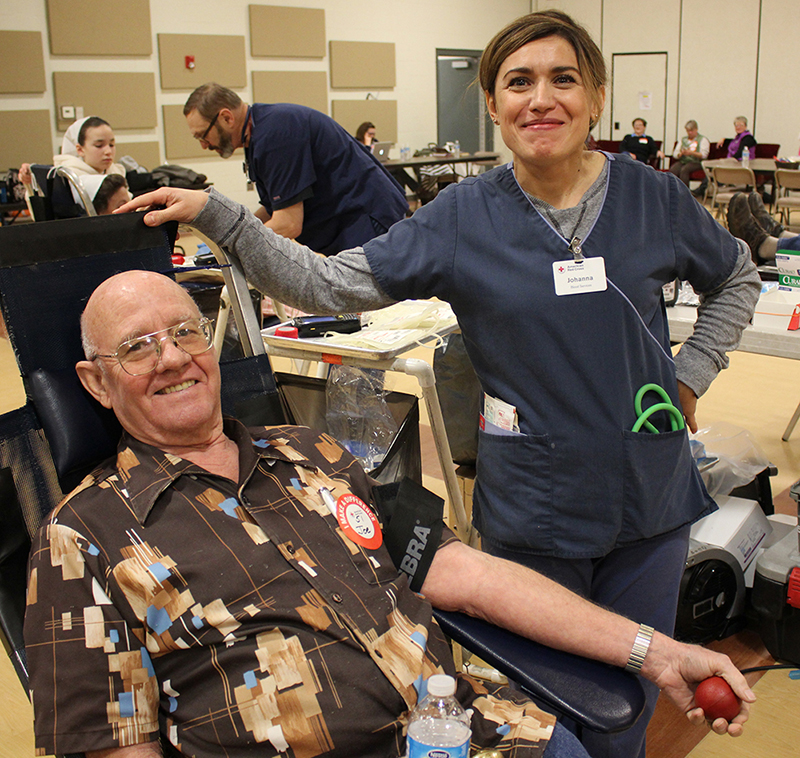 Most donors give repeatedly but Weiser is fortunate to have several donors who have
reached levels of ten gallons or above. Since it takes eight draws at a pint apiece to
equal one gallon, reaching a ten-gallon level is very impressive. To be congratulated are Rex Winegar and Steve Nakamura at 10 gallons, Ralph Graham and Bob Barber at 11 gallons and Pat Sullivan at 16 gallons. Tina Frei will reach ten gallons at our next
draw in December.

At this month's draw, we were honored to award Larry Lee with his 18-gallon pin.
Several long-time donors were present to applaud his accomplishment. I am aware of
only two donors who outdistance Larry and they are Ward Sutton with 22 gallons and
Lila Harper who will be presented with her 25-gallon pin in December.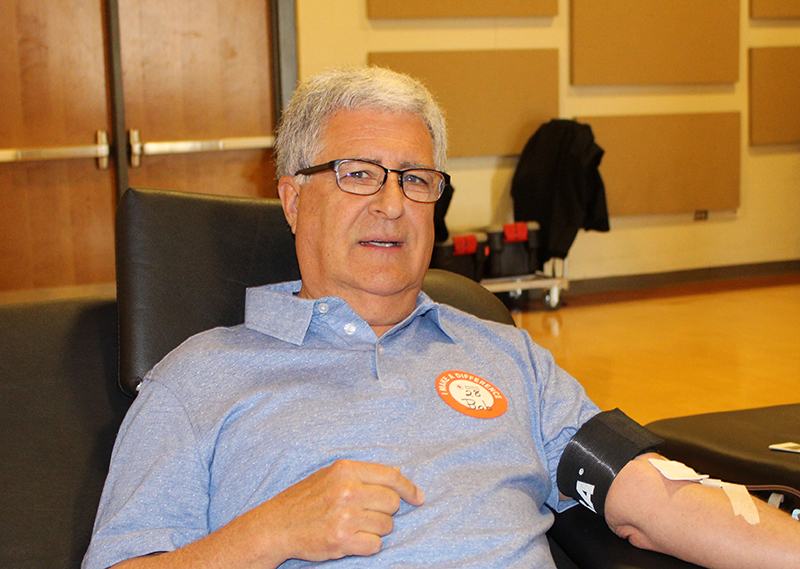 We are thankful for the dedication of all our donors. Those who gave their permission
to print their name are: Jason Bair, Jo Huskey, Larry Lee, Fred Haun, Rebecca Lewis,
Marg Chipman, Chris McCord, Kyla Dickerson, Trisha Thomson, Daryn Young, Bret
Karnes, David Hopper, Ward Sutton, Steve Nakamura, Liz Sousa, Wil Overgaard,
Rejeana Goolsby, Ralph Graham, Rhonda Hirata, Jessica Powell, Ed Roakema, Mari
Bionaz, Jo Wemmer, Colleen Edwards, Pat Sullivan, Cynthia Duncan, Marie Thomas,
Chris Linder, Jill Linder, Kaye York, Patti Hartnett, Rebekah Tracy, Bryan Drake, Bob
Barber, Barbara Barber, Jan Mullins, William Taylor, Laurel Sherman, Sue Slade,
Jasmine Stiers, Michael Hartnett, Charles Winegardner, Barbara Huck, Kevin Colby,
Austen Thomason, Marsha Glarborg, Phil Condon, Steve Spencer, Rose Speropulos,
Christina Mizar, Michael Schultz, Mary Walker, Sherry Moore, Kent Hamilton, Anne
Oglevie, Suzanna Hubele, Tina Frei, Gary Jensen, Christopher Lee, Linda McLaughlin,
Molly Jensen, Ellie Ibarra, Tim Nijhof, Lynette Buller, Angelina Buller, Brian Johnson,
Monica Odoms, Deborah Story, Bruce Winegar, Lila Harper, Britney Phillips, Sheila
Sorensen, Derry Bresee and Angela Glemser.

The blood drive could not happen without the help of the volunteers. Blood drive
coordinator, Alex Chavarria, pulls it all together by lining up and calling donors. Dorothy Evans works the registration table during the drive and enters future appointments into the database. Pat West helped at the registration table while Dolores Overacker and Patty Dickinson worked the food table with sandwiches that were provided by Weiser Classic Candy. We are also grateful to MTE for their generous contribution that pays for supplies and WIFI.
Weiser's next quarterly blood drive will be held in the Vendome on Wednesday,
December 8, from 8:00 a.m. to 2:00 p.m. Let's keep this success rolling. Please call
Alex Chavarria at 208-602-7138 or Dorothy Evans at 208-549-5589 to schedule an
appointment or go on the American Red Cross website to reserve your time slot. Your
blood could save a life. There's no better way to spend an hour of your time.