June 9, 2022
Dear Parents and Guardians,
On May 31st the Board of Trustees approved a new 4-day school week calendar for the WSD for the 2022-23 school year. They selected a calendar that is intended to keep the school year condensed to starting and ending dates that are similar to the previously approved traditional school calendar. Under the new calendar, the first day of school for students will be Monday, August 22nd. The last day for students for the 22-23 school year will be Wednesday, May 24th.
Students will attend school Monday through Thursday most weeks for a total of 145 days for the year.
The new 4-day school week calendar increases the student school day by approximately 55 minutes at each building. The calendar decreases student instructional hours for the year by approximately 15 hours for students at each building.
The new school day hours for students are listed below:
Pioneer: 8:15 am to 3:35 pm
Park: 8:05 am to 3:50 pm
WMS: 8:00 am to 3:50 pm
WHS: 8:00 am to 3:50 pm
Please be patient while we continue to evaluate ways to make our transportation more efficient in order to minimize the impact of the new school hours on existing morning and afternoon bus schedules.
The calendar for the 22-23 school year is posted on the WSD website under the calendar tab. The daily schedules for individual schools will be posted under each school's tab in the coming days.
The transition to a 4-day school week will be a work in progress. We expect that we will discover new ways to address some of the challenges we will encounter. Thank you for your patience as we embrace this new endeavor.

Have a wonderful summer.
Mr. Wilson, Superintendent
9 de junio de 2022
Queridos padres y guardianes,
El 31 de mayo, la Junta Directiva aprobó un nuevo calendario de semana escolar de 4 días para el WSD para el año escolar 2022-23. Seleccionaron un calendario que pretende mantener el año escolar condensado en fechas de inicio y finalización que son similares al calendario escolar tradicional aprobado anteriormente. Según el nuevo calendario, el primer día de clases para los estudiantes será el lunes 22 de agosto. El último día para los estudiantes del año escolar 22-23 será el miércoles 24 de mayo.
Los estudiantes asistirán a la escuela de lunes a jueves la mayoría de las semanas por un total de 145 días al año. El nuevo calendario de la semana escolar de 4 días aumenta la jornada escolar de los estudiantes en aproximadamente 55 minutos en cada edificio. El calendario reduce las horas de instrucción de los estudiantes durante el año en aproximadamente 15 horas para los estudiantes de cada edificio.
El nuevo horario escolar para los estudiantes se enumeran a continuación:
Pionero: 8:15 am a 3:35 pm
Parque: 8:05 am a 3:50 pm
WMS: 8:00 am a 3:50 pm
WHS: 8:00 a. m. a 3:50 pm
Tenga paciencia mientras continuamos evaluando formas de hacer que nuestro transporte sea más eficiente para minimizar el impacto del nuevo horario escolar en los horarios de autobuses de la mañana y la tarde.
El calendario para el año escolar 22-23 se publica en el sitio web de WSD en la pestaña del calendario. Los horarios diarios de las escuelas individuales se publicarán en la pestaña de cada escuela en los próximos días.
La transición a una semana escolar de 4 días será un trabajo en progreso. Esperamos descubrir nuevas formas de abordar algunos de los desafíos que encontraremos.
Gracias por su paciencia mientras abrazamos este nuevo esfuerzo.
Que tengas un maravilloso verano.
Sr. Wilson, Superintendente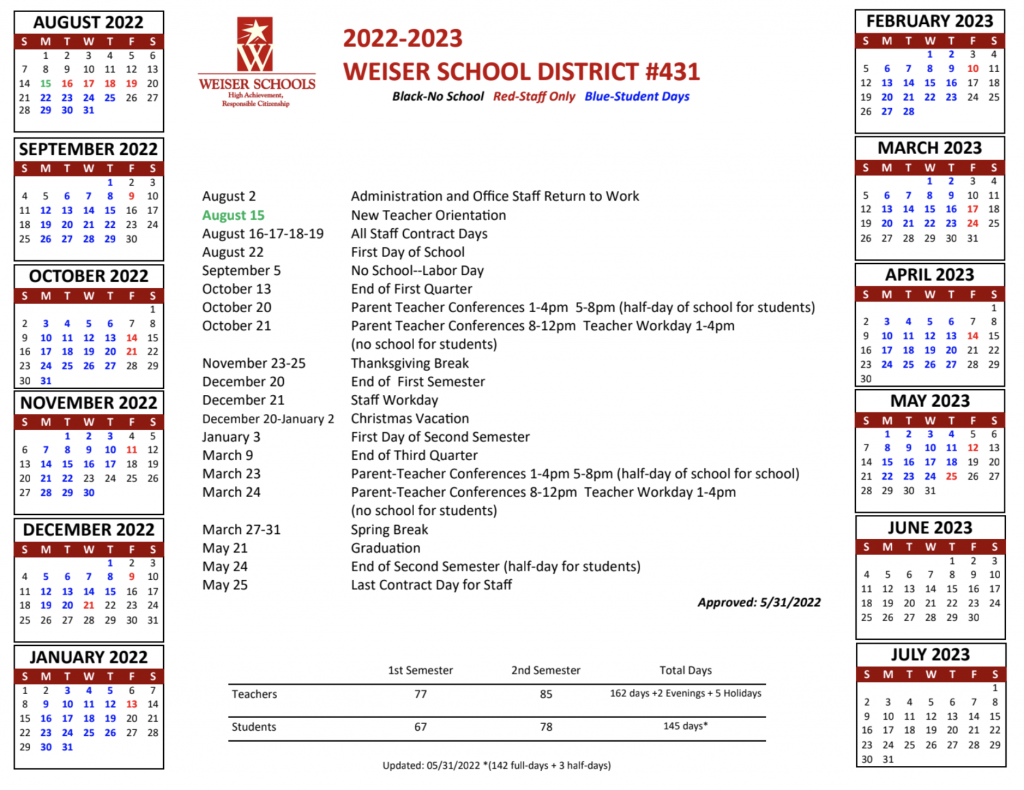 .