Angel Wings Network, Inc has a mission to provide support and resources to cancer patients, survivors, caregivers, families, and loved ones who have been touched with cancer in our rural communities.  As a 501c3 nonprofit, all of the money needed to run their programs is raised by volunteers through fundraisers with a smaller portion brought in by applying for grants.  One of two major annual fundraisers is coming up soon and here are the details!
What: 11th Annual Walk/Run Event (5K or 1 mile)
When: October 8th, 2022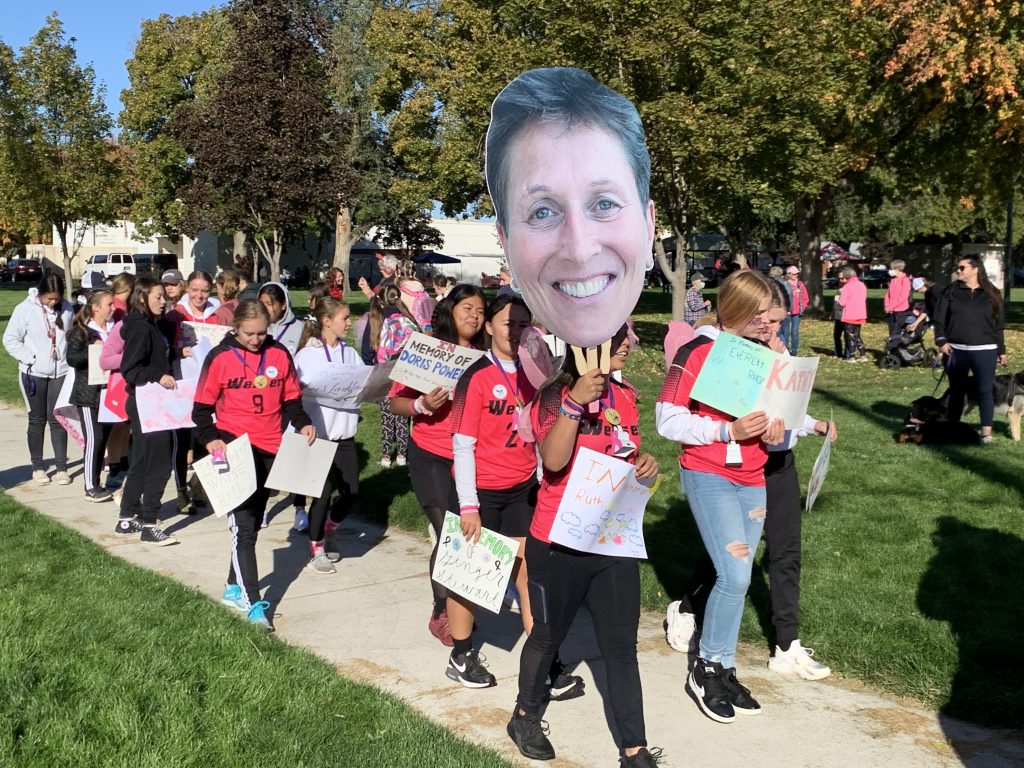 Where: Weiser City Park
Time: 11am to 1pm
Get pre-registered for this fun event!  Entry is $25.00 per person and children 5 years old and under are FREE.  Pets are also free!  So feel free to bring your walking companion along with your team.  Register in person at the office (773 W. Main St.) or go to the website www.angelwingsnetwork.net.  The walk/run will begin shortly after 11am, so please come a bit early to visit the registration desk, grab some swag gear, visit with friends, and check out the online auction.  Computers will be set up at the event but you can also start bidding as early as October 3rd!  Visit the Angel Wings Network Facebook page for more info and direct links to the auction.  There will be many wonderful packages available to bid on.  There will also be prizes for special categories such as largest team, best costumes, etc. so come all fancy in your cancer awareness gear!  The crazier the better!  TEAMS ARE HIGHLY ENCOURAGED!  Get together with your friends, family, coworkers, however you want to organize yourselves.  PRE-REGISTER before the event!  There will also be FREE healthy snacks, vendors to purchase from, ponies to pet, and maybe a few other surprises!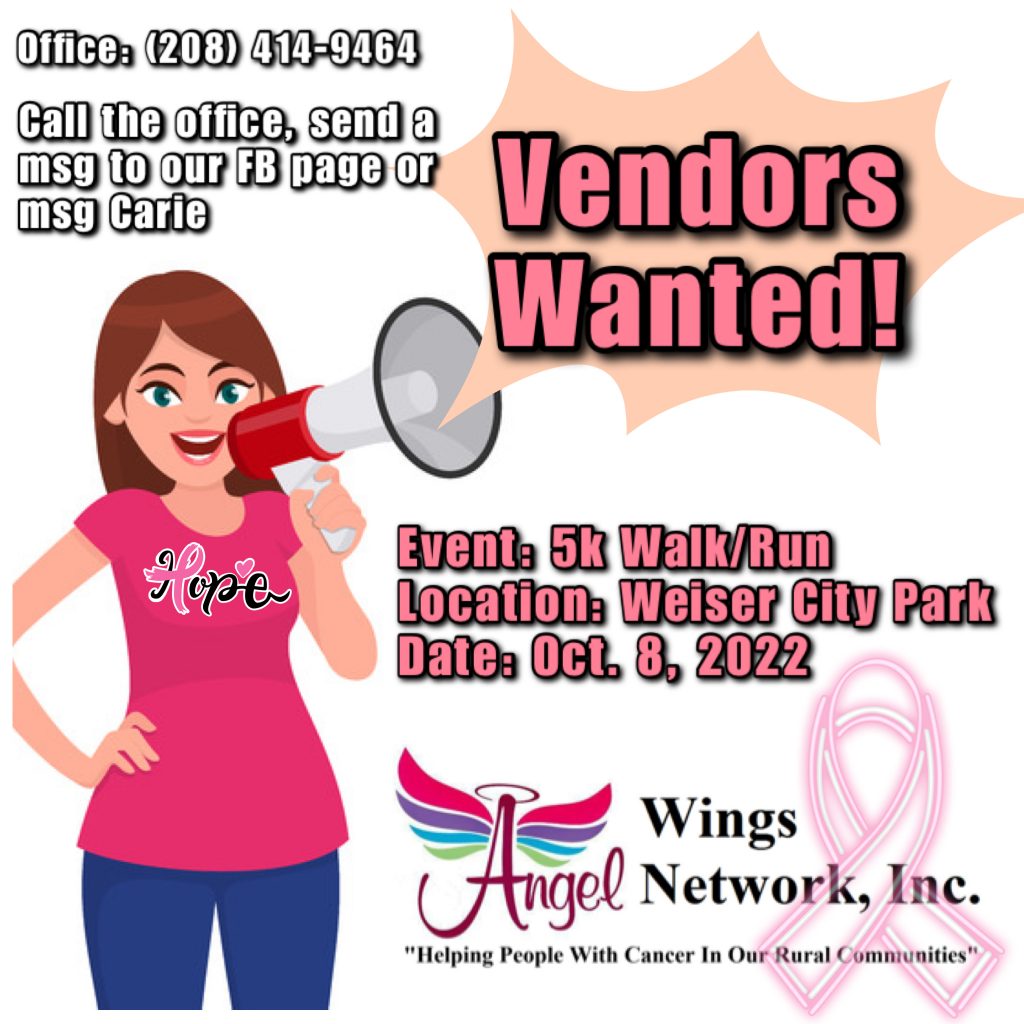 Auction:
Angel Wings is collecting auction items to bundle into large packages.  They are in need of items to make it over the top!  Vandal gear, BSU Broncos gear, Christmas themed items, and other "Themed" items or baskets are welcome!  Give Mabel a call if you need ideas on what to donate.  208-414-9464.  Auction will go LIVE on October 3rd.  All items must be into the office no later than September 22nd. 
Vendors:
The walk/run is open for vendors of all kinds! There is no booth fee. Please contact Mabel Dobbs or Jill Linder at 208-414-9464 if interested in setting up a booth for your products. Space is limited.
Other Fun Stuff!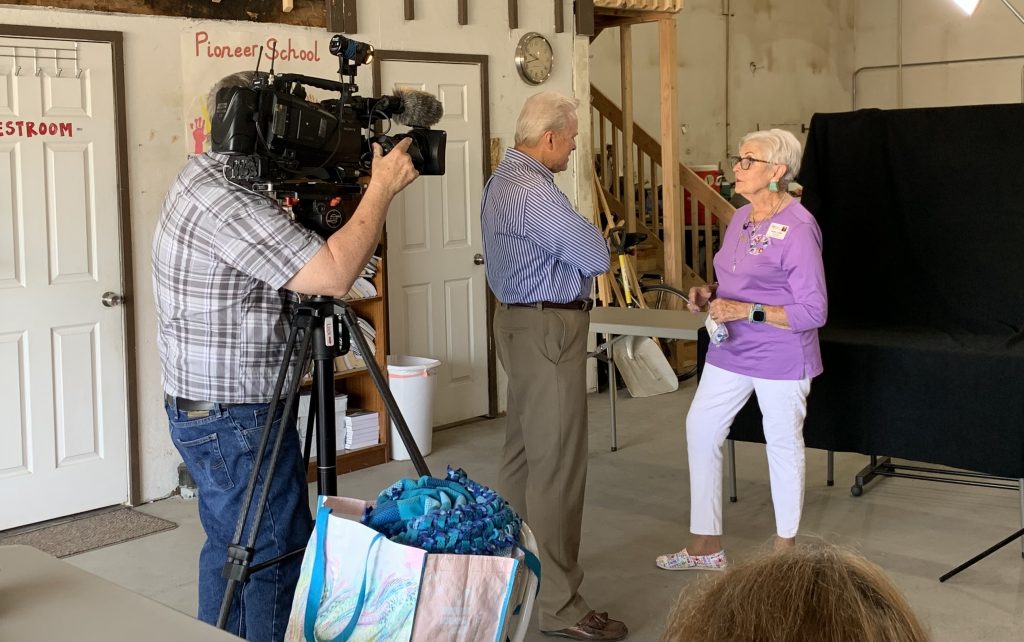 Angel Wings Network, Inc had the incredible opportunity to be interviewed by CBS2 News anchor Brent Hunsaker after being presented with $500 cash donation as part of their "Pay It Forward" program. A news crew spent several hours talking with executive director Mabel Dobbs, several board members, and volunteer blanket maker Ralph Rowley. This special piece will air on CBS2 on Wednesday, Aug. 23rd at 10pm. It will also be available on their website www.idahonews.com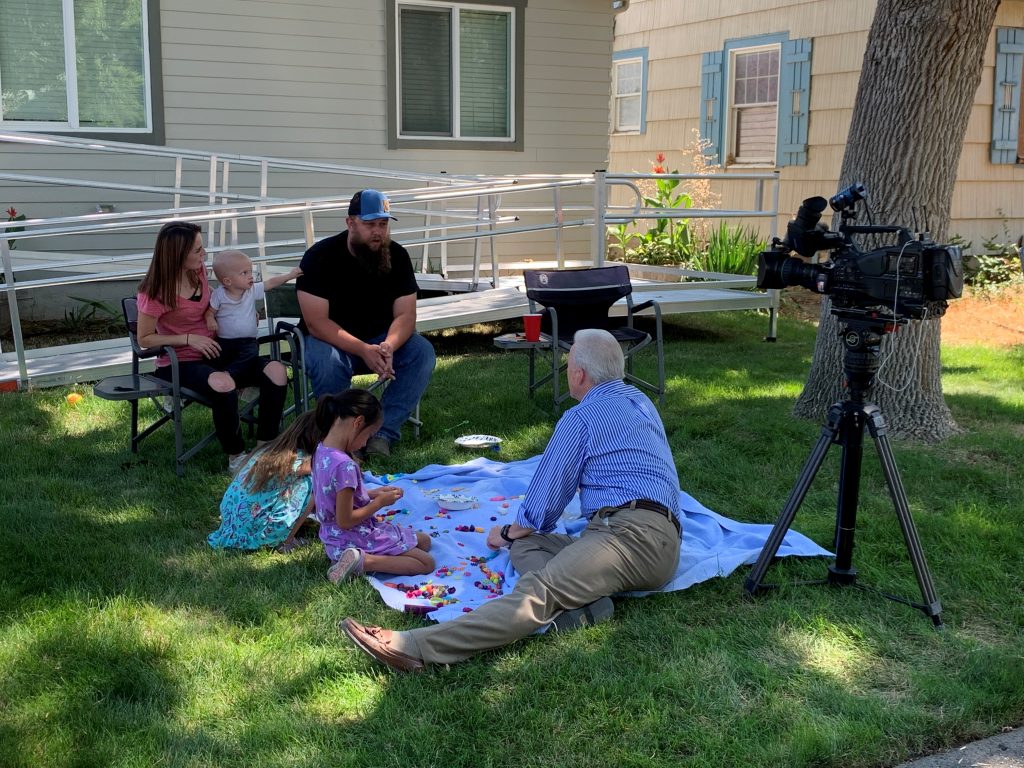 Dobbs wishes to thank Brent Hunsaker and crew for their kindness, generosity, and patience. Hunsaker also stopped by the home of one of our cancer patient families. Little Cooper Keffer is one of three children Angel Wings Network has been helping through their cancer journey. To hear all about their story, tune into the "Pay It Forward" special on Wednesday at 10pm.
Mobile Mammogram Unit
Washington County, Idaho has a very low rate of women 40 years and older who get an annual mammogram screening. The American College of Radiology, according to hopkinsmedicine.org, recommends screenings yearly, regardless of symptoms or family history. Early detection is CRITICAL! According to the American Cancer Society, early-stage breast cancer has a 5-year survival rate of 99% with later-stage cancer survival rate of only 27%. Ladies, get in for your mammograms!
Talk to your doctor about screenings.  There are two mobile units that travel to Weiser Memorial Hospital with the necessary equipment to perform annual mammogram screenings.  To schedule an exam with the MOBILE UNIT, call:  St. Luke's (208) 381-2055 or St. Alphonsus (208) 367-8787.