The Blessing Bike is a 501c3 nonprofit ran completely by volunteers who have a mission to provide access to affordable passenger bicylces to families with loved ones who struggle with age barriers, health or disability issues.  The organization began just a couple of years ago in 2018 when a family wanted to find a more affordable option for people wanting a front passenger bike.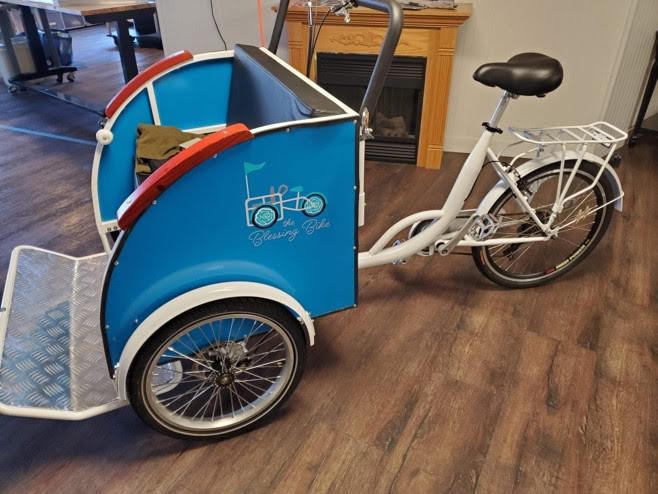 "At the age of 92, Rosemary Sorce's youthful spunk and willingness for adventure inspired her family to want to make her final season on earth a little more meaningful and enjoyable," says their Facebook page. Wade and Jill Houser came up with a solution to their problem. They designed a bike that is simple, easy to use, with no hand brakes or gears, that provides a smooth and relaxing ride.
The new activities director at Weiser Care of Cascadia, Tiffanee Henson, set out to raise funds to acquire a blessing bike for their residents. In just one week's time, the Weiser community supported the fundraiser by contributing $1,500, the cost of one blessing bike. Henson was thrilled to see so much love and support being shown for the local care facility.
Each blessing bike also comes with a comfort pillow that is handmade by one of their volunteers. The bike allows for a caregiver to ride with a passenger in the front, taking a slow and leisurely ride in the great outdoors. "The Blessing Bike truly has been the wheels that move the soul…and we are grateful to have helped folks experience the outdoors safely in this pandemic…" a quote shared on The Blessing Bike facebook page.
The TV show "Making Good" has been filming at Weiser Care of Cascadia to feature the Blessing Bike delivery. Comedian Kirby Heyborne is a volunteer for nonprofits and charities that are "making good" within their communities. Heyborne interviews and documents these stories for the BYUtv show, which streams on the BYUtv App. You can view the show by going to their facebook page "Making Good" or by visiting www.byutv.org/makinggood
Weiser Care of Cascadia and Tiffanee Henson have extended their gratitude to the community for their support. "Thank you to everyone who donated, shared our fundraiser, and worked hard to bring this amazing bike to our residents," they shared. Henson and staff are sure to bring some smiles and adventures to the residents once the weather improves. Give them a wave when you see them cruising around town in their cool new bike!