For years, the Ontario City Council has tried to come up with solutions to the increasing issue of homelessness in Malheur County.  In December of 2019, the pilot shelter program was given the go-ahead to start working on the project.  Among many concerns and discussions, the project was successfully created from the collaboration of two organizations and many dedicated people.
The Winter Shelter Pilot Project has been open in Ontario, Oregon since December 28th, 2020 and will remain open through the winter months until April 30th, 2021. The project was designed to give emergency housing priority to at-risk populations such as the elderly and disabled, families with children, veterans, runaway homeless youth, and survivors of domestic violence. Living in the News has covered updates on the progress of this project since the beginning. We recently contacted Heather Echeveste, executive director of Origins Faith Community Outreach Initiative, to learn of any updates since the opening of the project. Echeveste's role in the project is recruiting and scheduling employees and volunteers to provide 24/7 oversight, as well as filling immediate needs of the shelter stayers.
Echeveste reported that there is a wait list for people to get into one of the "tiny homes", but with permanent placement happening fairly quickly, being on the wait list does not last long. When an unsheltered person or family applies for the shelter program through Community in Action, they will be notified of whether or not they qualify and then they are placed in an available unit as soon as possible. Echeveste shared that Community in Action assists the person or family with a work plan and they also help with the search for safe, affordable, and permanent housing. Once employment and permanent housing are secured, they are able to vacate the shelter so that it becomes available to the next person on the wait list.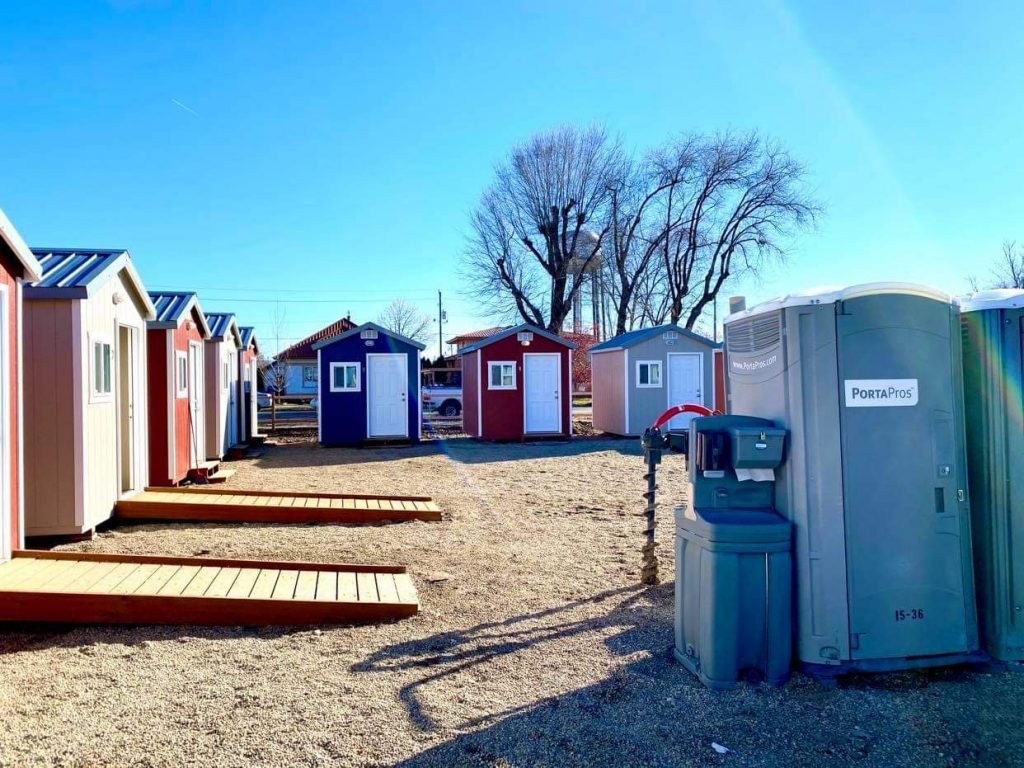 Origins Faith Community Outreach Initiative is an organization that provides 24/7 oversight, food, water, showers, laundry vouchers and scheduled times for people to cook meals or reheat food. Echeveste also stated that they provide one hot, homecooked meal Monday through Friday from 11:30am to 1:00pm. Shelters are equipped with supplies such as cots, blankets and pillows, and small refrigerators. Portable bathrooms are available as well as hand sanitizer, disinfectant wipes, and other measures to ensure cleanliness and safety. The project aims to provide basic services and shelter to keep homeless people warm, safe, and secure while looking for a more permanent solution.
Community members had concerns a while back about loitering and trash accumulation, which was a problem prior to the shelter project being opened. Echeveste said it is their hope that by sheltering some of these unsheltered individuals, these types of issues will lessen. The property where the tiny homes are sitting is under 24/7 supervision and thus far, they have seen minimal problems.
"Currently the shelter is serving Malheur County residents. However, there is work being done to secure partnerships with organizations across the border in Idaho. This will take some time, but we hope to establish those partnerships and plan to work toward the ability to offer services on a much larger scale in the future," Echeveste commented. At the last Point in Time count, there were more than 360 homeless people in Malheur County.
When asked if there have been any new issues coming up now that the tiny homes are filled, Echeveste commented, "I wouldn't call them issues but rather instances. For instance, with the priority populations being what they are, there are quite a few people sheltered that have severe health issues. Therefore, the ambulance, which is usually accompanied by police, has been called to the site four times. This appears to be a police presence but is actually emergency medical presence."
How can the community help?  Donations are needed and much appreciated.  The services provided require funding, and with more donations, they can help more people.  Volunteers are also greatly needed.  "These programs depend on the in-kind contributions that come from the communities we serve," Echeveste shared. 
Reach out to Community in Action at (541) 899-9555.  Learn more about the program by visiting communityinaction.info