By Macy Maloney
Weiser FFA had the chance to hold our annual chapter banquet May 4th. Over the past year our chapter had the opportunity to attend many conferences, community services, and FFA activities, these events were highlighted during our banquet. Our chapter reporter, Macy Maloney, was able to highlight these moments through a slideshow presentation. We took some time to recognize some of our members and community members who went above and beyond for our chapter. The awards given out during our banquet were the Star greenhand award given to Lacey Christopherson, the Star Chapter Farmer award given to Emily Pope, and the Honorary Chapter Degree awarded to Liza Horzen and Jennie Walker. We had the privilege of inducting Clayton Moore as President, Macy Maloney as Student Advisor, Mattie Shirts as Vice President, Lacey Christopherson as Secretary, Erin Larsen as Treasurer, Kate Davis as Reporter and Grace Swank as Historian.
The chapter wants to give a big thank you to our retiring officers; President Kasey Kautz, Student Advisor Madison Cobb, Vice President Kellie Peterson, Secretary Kendall Rynearson, Treasurer Clayton Moore, Reporter Macy Maloney, and Historians Elaina Hophman and Emily Pope.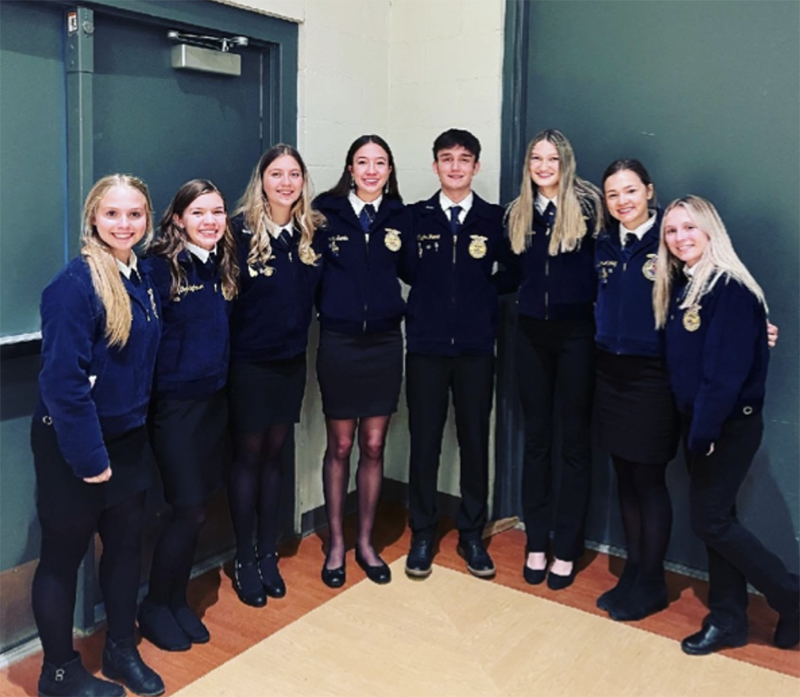 We thank the seniors who have put so much dedication and time to our chapter for the past four years, Maddie Cobb, Whitney Cordes. Shae Kunz, Emily Larson, Alexis Martinez, Mckayla Miller, Mecare Olsen, Kellie Petersen, Emily Pope, Libbie Rynearson, Makala Sherry, Willy Shirts, Cameron Thein, Colyer Chandler, Sami Despain, Rylee Willlet, Vincent Jace Buescher, and Payton Alberson.
Finally a big thank you to our Advisors, Robi Salisbury and Pattie Matthews, for putting all their time and effort into making our Chapter great!