By Dorothy Evans
An impressive 107 people attended Weiser's quarterly blood drive on Wednesday with one thought in mind – saving lives. While not all those who volunteer their blood are able to give due to medical restrictions set by the American Red Cross, Weiser was still able to collect 107 units with the help of several double-red donors. This number is remarkable because it is an 85% increase since I began charting the turnout in May 2014.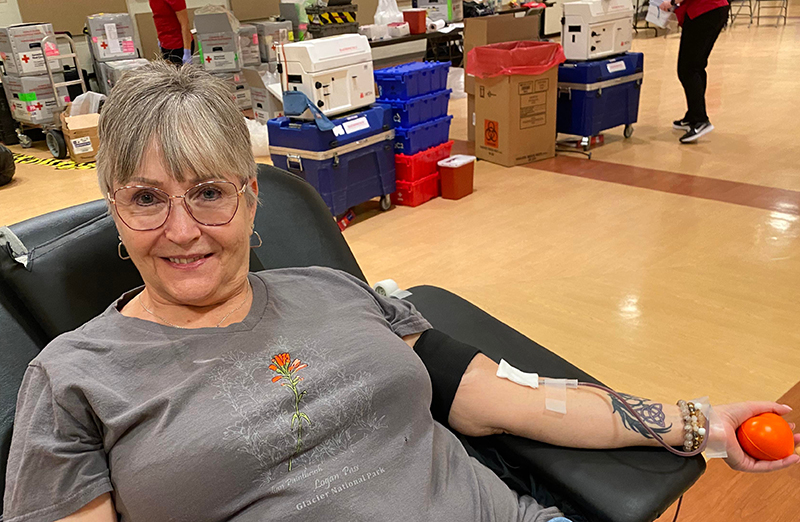 Weiser is fortunate to have many heroes. Immediately coming to mind are our veterans, police, firefighters and hospital workers. These people save lives and keep us safe. But there is another kind of hero who saves lives and keeps us safe, and that is the blood donor. We don't often list blood donors when mentioning heroes but imagine the horror of having a loved one needing a transfusion and be told there is no blood available. Thanks to the people who donate blood, this hopefully will never happen to you.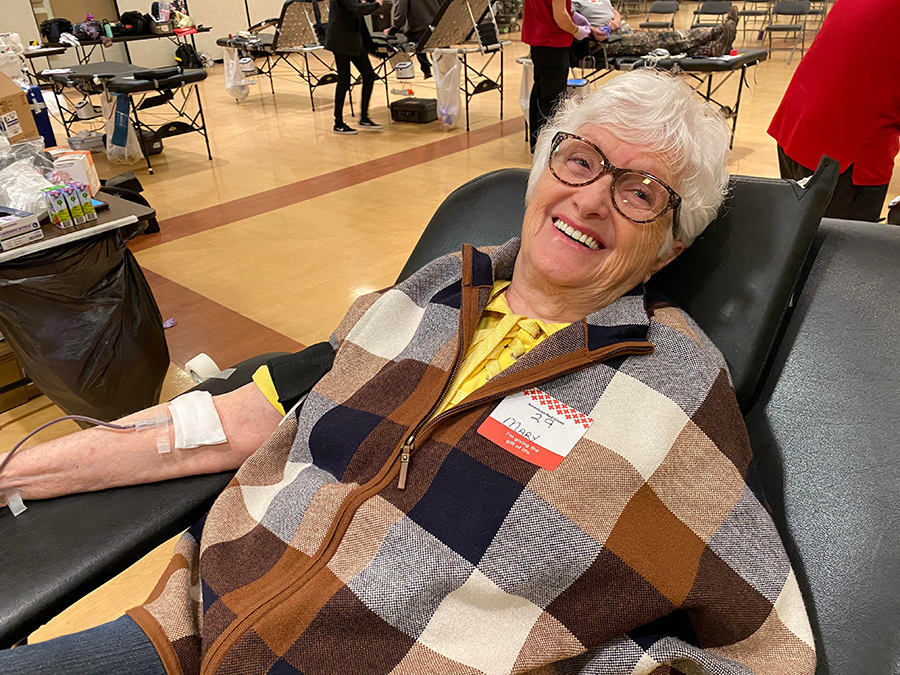 We are grateful to all our donors. Those giving permission to print their name are Larry Lee, Jason Bair, Marg Chipman, Brent Forward, Steve Cooper, Michael Hartnett, Trisha Thomson, Jeff Kohler, Liz Sousa, Angelea Halvorson, Fred Haun, Cindy Duncan, Chris McCord, Ralph Graham, Jessica Thomson, Raina Page, Julie Derr, Rebekah Tracy, Brittney Phillips, Rejeana Goolsby, Judy Rule, M. Carole Kunz, Wil Overgaard, Connie Lawrence, Veronica Vasquez, Diana Sudderth, Suzanna Hubele, Colleen Edwards, Roland Handel, Mary Walker, Russell Shelton, Kathy Shelton, Steve Nakamura, Lupita Rodriguez, Dan Zeller, Melisse Hiner, Pat Sullivan, Renee Roe, Mari Bionaz, Phil Condon, Bob Barber, Barbara Barber, Jill Link, Chris Christopherson, Anne Oglevie, Marla Leedy, Jessii Moser, Charles Winegardner, Amy Uhl, Gary Hill, Linda Perkins, Karen Ross, Patricia Miller, Bridger Thomas, Chris Clapperton, Julie Sarazin, Tim Nijhof, Sabrina Young, Mary Dimmitt, Steve Spencer, Corrin Warship, Tanya Moye, Linda McLaughlin, Gilbert Salazar, Aurora Salazar, Jose Rodriguez Jr, Chris Linder, Rick Haynes, Cynthia Haynes, Tina Frei, Brian Johnson, Brianna Caskey, Patti Hartnett, Leslie Breske, Sarah Hatfield, Daryn Young, Molly Jensen, Brandy Stoneman, Brenda Crimin, Norma Brown, Lila Harper, Connie Hagan, Rhonda Hirata, Dennis Cooper, JoAnn Karel, Lori Nijhof, Troy Gilliam and Jill Linder.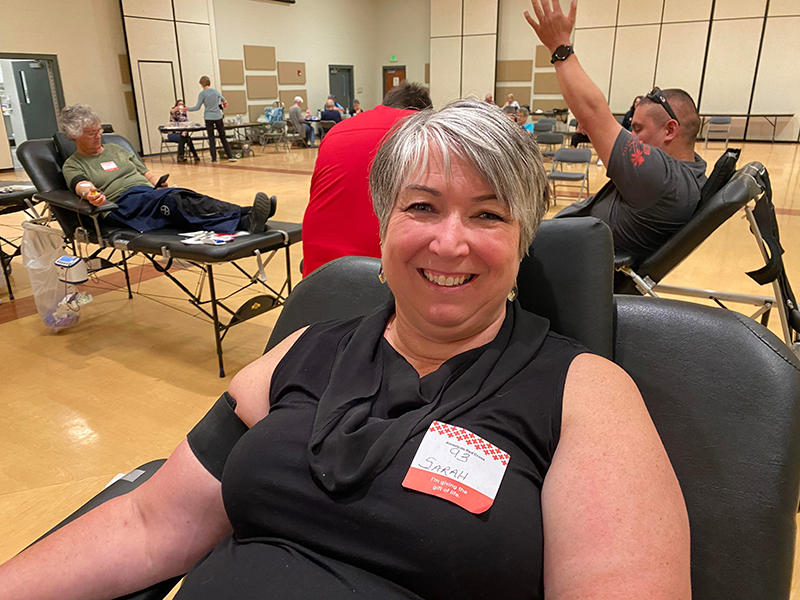 The blood drive could not happen without the help of the volunteers. Blood drive coordinator, Alex Chavarria, pulled it all together by lining up and calling donors. Dorothy Evans worked the registration table during the drive and enters future appointments into the database. Pat West helped at the registration table and Janet Forward escorted donors from the blood draw beds to the food tables. Mary Walker, Dolores Larsen, Jan Mullins, Vickie Sale and Vickie Thomas of Nu Masters sorority prepared sandwiches for the donors and a delicious pulled pork lunch for the workers and volunteers. Nu Masters is a member of the Beta Sigma Phi City Council who funds the purchase of the food. We are also grateful to MTE for their generous contribution that pays for supplies and WIFI.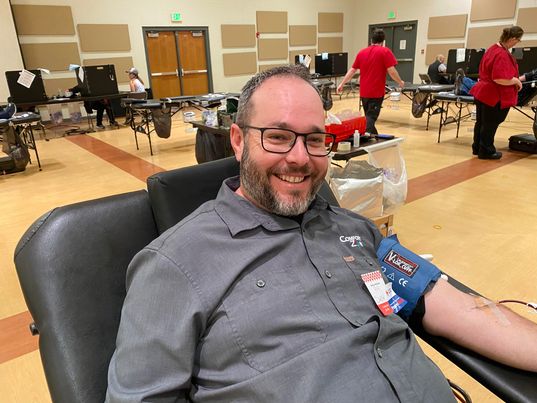 Weiser's next quarterly blood drive will be held in the Vendome Events Center on Wednesday, August 3, from 8:00 a.m. to 2:00 p.m. Let's keep this success rolling. Please call Alex Chavarria at 208-602-7138 or Dorothy Evans at 208-549-5589 to schedule an appointment or go on the American Red Cross website to reserve your time slot. Your blood could save a life. There's no better way to spend an hour of your time.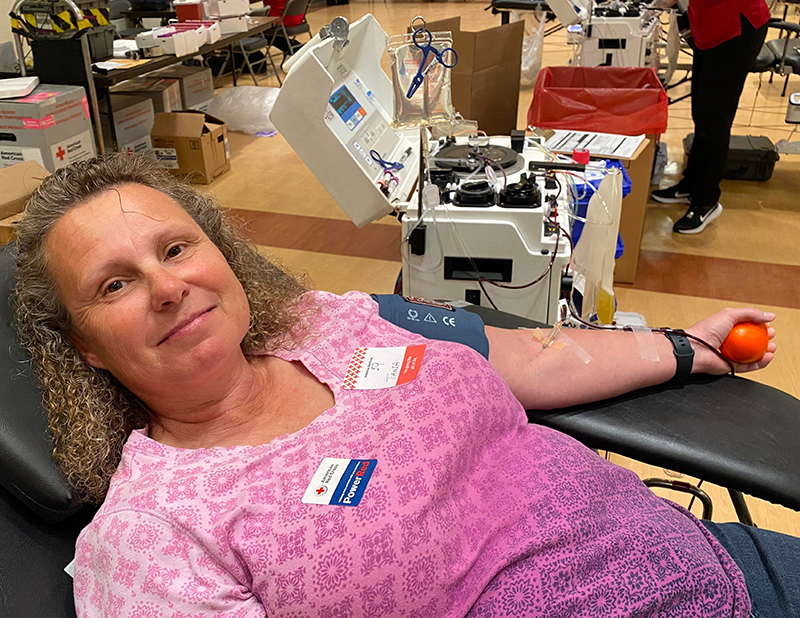 .