GivingTuesday is a global movement encouraging generosity through the power of people and organizations to make a difference within communities and around the world.  The movement was created back in 2012 as a simple concept:  one day that encourages people to do something good for their community.  Since 2012, the movement has grown to inspire millions of people around the world to come together and give.
Everyone has something to give, whether it be genuinely smiling at a stranger, helping out a neighbor, donating food to a local charity, or volunteering your time at a nonprofit. Every act of generosity, no matter big or small, is one small way we can help change the world.
2020 has been a year of global crisis where we have all been isolated and disconnected from one another. GivingTuesday was built on the idea that people can come together to make a difference. During a global pandemic, we are unfortunately being encouraged to NOT come together in a physical sense. However, there are always ways of being generous even when we can not gather in groups to accomplish a goal.
So, what can you do for GivingTuesday?
Each year, nonprofits, small businesses, schools, churches, and many other organizations participate in this global day of giving. Due to social distancing and limited number of people allowed in public areas, we might have to get creative this year! Here are some ideas for how you can give locally:
Donating Money– donating money is always a great way to help your community. Nonprofits are especially struggling this year with meeting donation goals.
Donate Skills – it isn't just about money! Skills are needed, too! If you are particularly good at something, offer your skills to a local nonprofit or organization. Computer skills, accounting, organization, and driving skills are just a few examples.
Donate Goods – food, clothing, blankets, and essential items are always needed. Toiletries, books, restaurant gift cards, office supplies are a few more examples.
Volunteer – give back by volunteering your time and meet new people! Organizations and local nonprofits are always in need of help.
Be Kind – a random act of kindness could make a world of difference in someone's life!
Share the Word – when we share generosity, we inspire others to give, too! Share on social media how and why you are participating in GivingTuesday. Share posts of local nonprofits to inspire others. Helping to spread the word is a GREAT way to give back.
Where to Give Locally?
Due to the social restrictions, before visiting an organization, give them a call and ASK how you can help. Some organizations are in need of in-person help while others could use your help in other ways. Call around and find out where you could give to the best of your ability. This is a short list of ideas but don't let that limit your search! There are MANY ways to give during GivingTuesday.
Weiser Senior Center (208) 414-0750 – they are always in need of extra helping hands.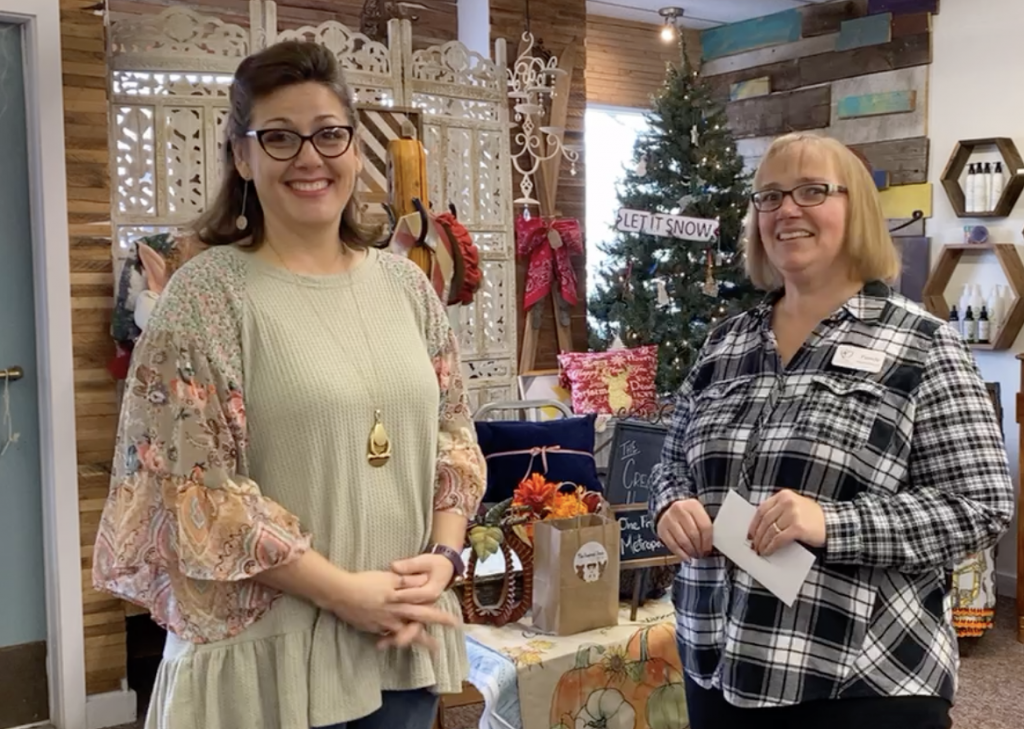 Angel Wings Network, Inc (208) 414-9464 – this organizations would benefit from monetary donations and volunteers for their "Wheels to Recovery" program. Visit their #GivingTuesday event on facebook.
LOVE, Inc of Washington County (208) 414-5683 – they are especially grateful for food donations, bedding donations, and other essential items.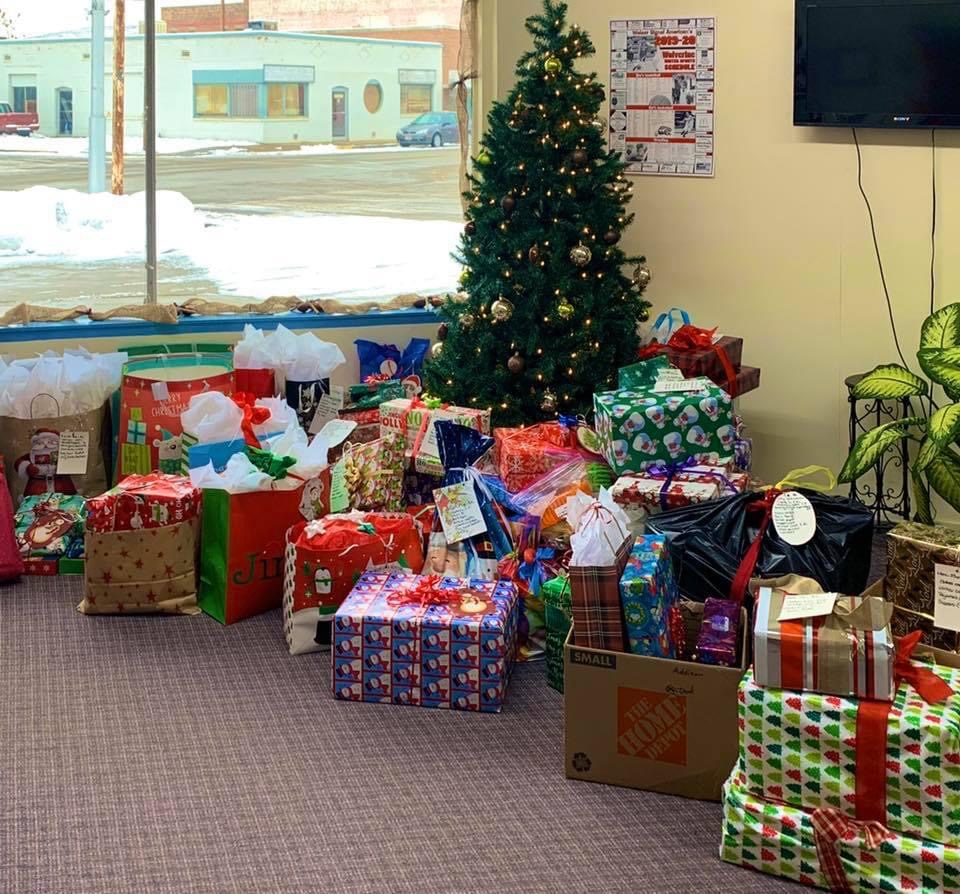 Rose Advocates (208) 414-1231 – give them a call and find out how you can help local victims of domestic violence.
WICAP (208) 549-2066 – food and clothing donations are always needed and appreciated.
Animal Shelters / Rescue's – food, bedding, and dog toys are always needed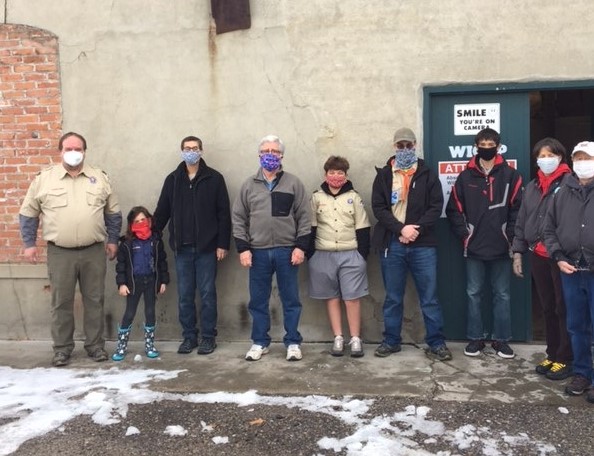 Scouts of America – volunteer to mentor local youth
Local Churches – ask how you can volunteer for your church. Many have food collection boxes and other ways to help.
Weiser Memorial Hospital – in lieu of Festival of Trees, the WMH Foundation is presenting the first Year End of Giving Campaign in support of the hospitals Transitional Care Unit. Visit their event on Facebook.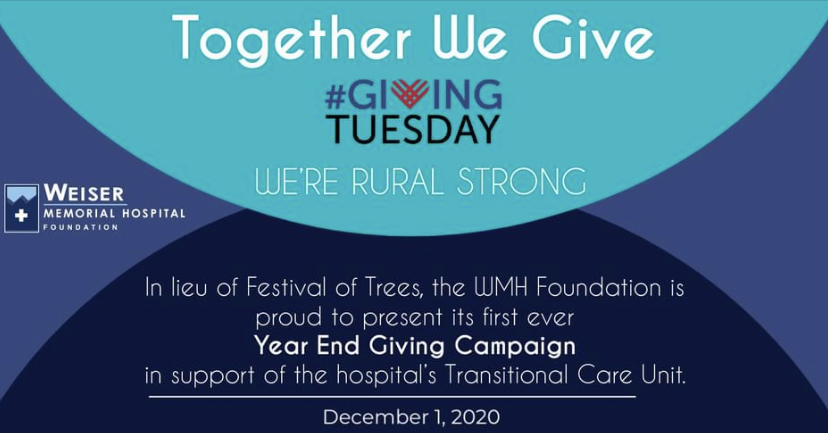 2020 has been a tough year on everyone.  Let's make this #GivingTuesday one to remember! Happy Holidays and Happy Giving!