The Weiser Public library is pleased to host a fall lecture series featuring real people with real stories.  Library Director, Timbra Long, spoke with us about her thoughts behind the idea.  Long shared that she has wanted to organize something new and different that the library has never done before.  After taking over as new director back in June of 2021, Long has been excited to add some innovative and fresh ideas.
With the help of friends and family, Long assembled a list of people who might be willing to share their stories with the community. "I wanted to find everyday people with real stories to tell," she commented. With politics and religion aside, Long had the vision of bringing people together to listen to stories that people can relate to; accounts of survival, healing, life journeys, liberation, love, history and values.
September 21st will kick off the lecture series with speaker Bobby Sutcliffe, retired Marine, coach, husband, father, and invisible Wound Survivor.  Bobby will be speaking about his life-altering injury and the hiking hobby that helped him to process and heal from his wounds.  His "Hike and Heal" journey is one you won't want to miss.
October 7th lecture will feature Amy Pence Brown, writer, artist, body image activist.  She will be giving a speech about how to live life in your own skin and love yourself!  She will also be sharing tips and tricks through her stories and ideas of body liberation.  Do not miss this uplifting and inspiring lecture.
November 9th, Jill Hill Kraft Thompson will be sharing her story of love and loss.  After losing 5 close family members in a tragic car accident, Jill speaks about her survival and how she has been able to find strength once again from a griever's perspective.  Bring a tissue with you to this moving lecture.
December 9th will conclude the lecture series with Jacky O'Conner, Emeritus Professor of English at Boise State University.  Jacky will present signs and their stories; advertising signs play an integral part in American social and cultural values, language, and images. Between 1920 and 1960, neon sign technology inspired businesses to advertise in a new way, and many of which are still in use today.  Jacky will be sharing fascinating stories through a virtual road trip where you will explore the past through photographs and stimulating stories.
The Fall Lecture Series will take place at the Weiser Public Library and is absolutely FREE. Doors open at 6pm and lecture will begin at 6:30pm. Q&A will be offered at the end of each lecture along with light refreshments. Mark your calendars because you won't want to miss these!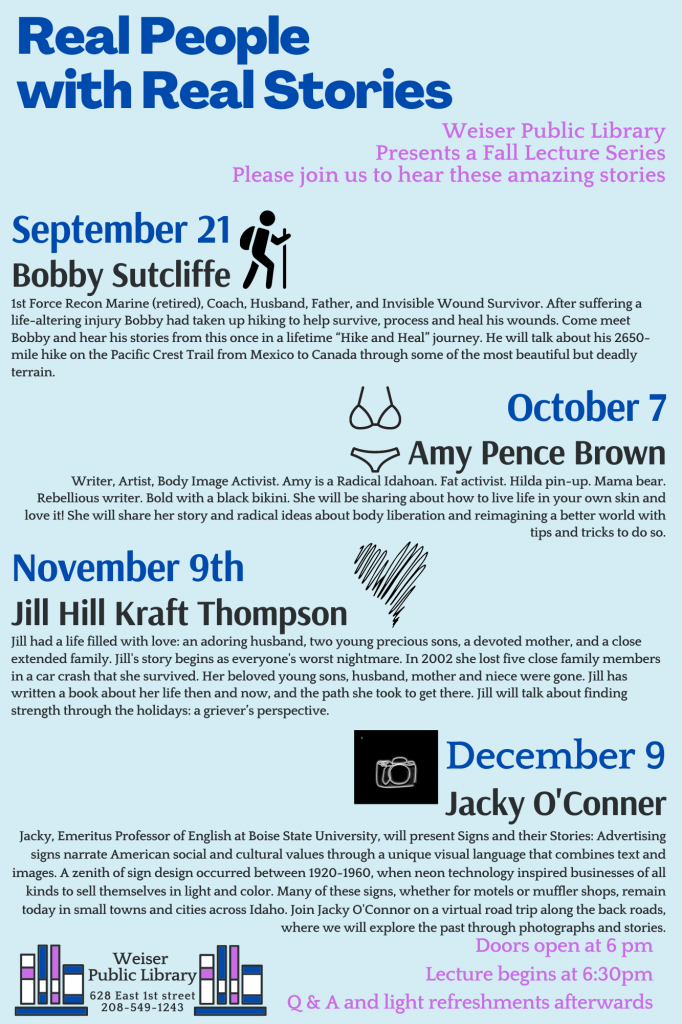 Be sure to visit Weiser Public Library on Facebook for updates!
Weiser Public Library
628 East 1st Street
Weiser, ID 83672
208-549-1243