By Zoe Luke
SpeedGoat Cleanup and Removal is a family-owned business owned by Shawn Reynolds and Dustin Cloud. They are Oregonian born with Dustin still living in Oregon and Shawn abiding in Idaho. The two were once rivals in high school with Shawn representing Adrian High School and Dustin, Mitchell High School. Their rivalry evolved into best friends and teammates at Treasure Valley Community College where they ran track & field and studied Business. Their friendship and teammate status followed them to Eastern Oregon University and now business partners.
The business was named in reference to an antelope in paying homage to local roots as Shawn was once an Adrian Antelope. SpeedGoat Cleaning and Removal is a commercial and residential clean-up service in the Treasure Valley and local to Weiser and Ontario. The team guarantees that a job is completed above and beyond the expectations of each customer by being adaptive and meticulous in the work performed. They are professionals who perform exceptional work with each job they are charged with. They take time to make sure each place they're at is left better than what they received.

SpeedGoat services include cleanup beautification, recycling, removal, assisting with outdoor community improvement projects, and repurposing gently used items to those in need. Their business is convenient for locals who need old furniture, or big appliances moved out in a jiff and don't have the time or resources to do it. With their team of six, they operate two large dump trailers with the smaller being the dimensions of 14-foot long by 7-foot wide with 4-foot walls. On average these jobs take no more than two hours. If it's a big job, then it'll be either a half day or a full day. Property owners have used their services to help clean up rentals quickly – whatever you may need moved and disposed of they are more than happy to help!
Regarding the estate moving, they hold much respect for the families who are grieving or moving through a transition period with their loved ones moved into a retirement home. Each item will be respected through repurposing select items or ending its days at the dump.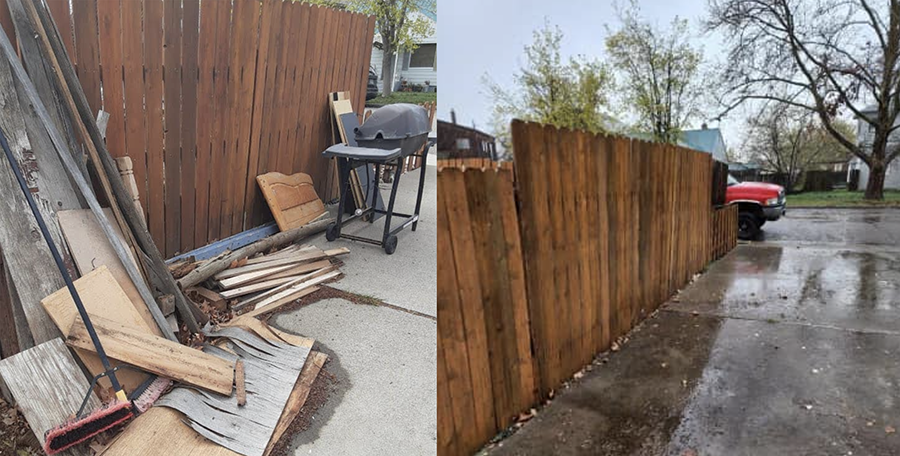 SpeedGoat charges a minimum of $99 for a quick removal of a fridge or other big items. A quarter load is $175. A half load is $225. Three quarters load is $400, and a full load is $500. They are open to negotiations and will work with you and your budget. They accept card and venmo.
You can find them on Facebook, or call them directly at 541-709-5383.