The Weiser Memorial Hospital Foundation was founded back in 1987 by Barbara Barber. "I believed so strongly in our local hospital that I ran for an elected position on the Weiser Memorial Hospital Board," Barber stated, and she was elected for her first 6-year term. "After I was there for a short time, I realized how costly equipment for our patients was. I had been a member of Beta Sigma Phi Sorority and had spent numerous hours painting rooms at the hospital." With the hospital sitting in a difficult position at the time, Barber felt that the hospital was a vital piece to the community, so she began brainstorming other funding sources as well as a new way to involve people in the community.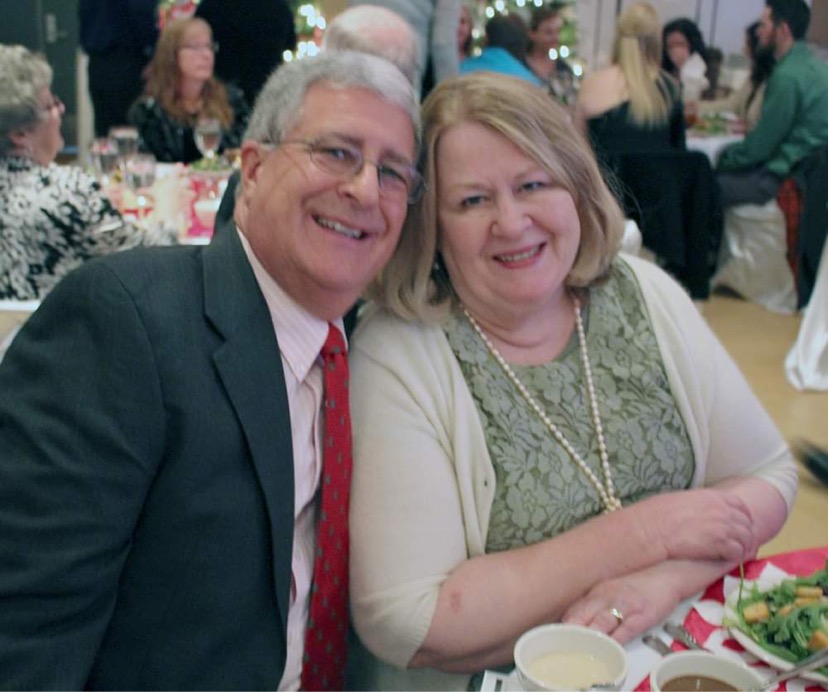 The hospital administrator at the time, Phil Lowe, agreed to meet with Barber to discuss her ideas. At first, Lowe felt that the active "Friends of the Hospital" provided enough assistance that another foundation would not be needed. Barber explained that an additional funding source would be designed to raise money for more expensive equipment that would directly benefit the patients of the hospital.
As she continued plans creating a new foundation, Barber was contacted by the Washington County Attorney, Ira Burton, who wanted to discuss a unique funding opportunity. Burton caught wind that Barber was in the beginning stages of a hospital foundation, and he wanted to talk with her about a potential source of money that could help jump start the plans. That day, she learned about a dormant account that had not been active for a very long period of time. "The account had been set up to help hospital patients that had worked in agriculture and had no insurance, Medicaid or Medicare. This account was decades old but, with today's cost of care, a single patient bill could empty it," Barber shared.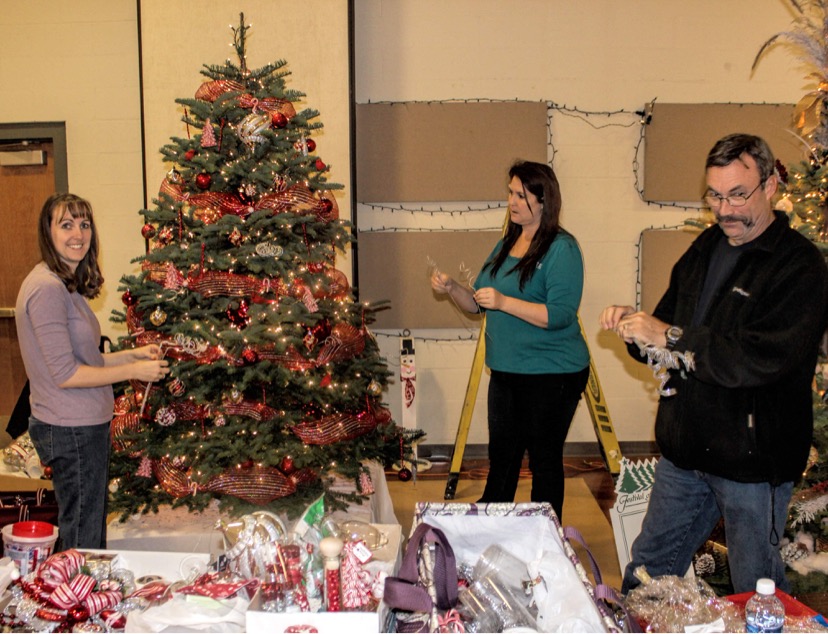 In this dormant account sat a little more than $21,000, and Burton asked Barber if she would be willing to petition the court to receive the money from this account. "I agreed and this was the initial funds for the new Memorial Hospital Foundation. I planned to sponsor fundraising activities, like the Festival of Trees, to grow the foundation, and never have to touch the original seed money," she shared.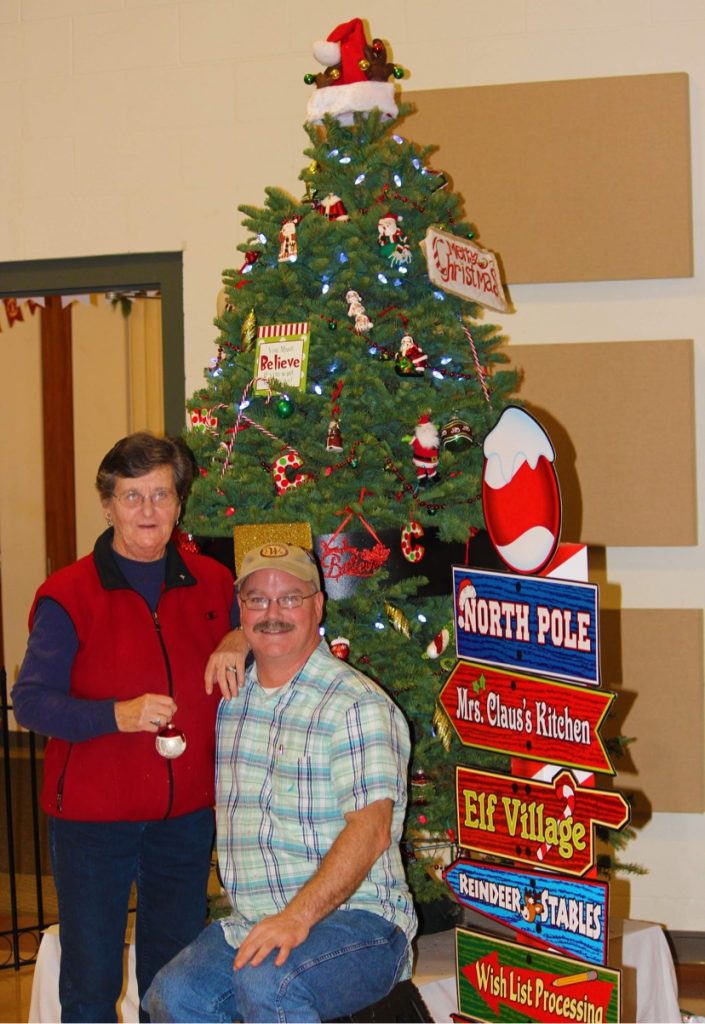 With the newly created foundation, and a board of members hand-picked by Barber, the immediate challenge was to organize the very first fundraising activity! Barber and the board wanted to host a festival of trees. "With the encouragement and support of St. Alphonsus hospital, the first Weiser Festival of Trees was scheduled for December 4th and 5th in 1987. We had less than two months to make it happen," explained Barber. St. Alphonsus was thrilled to share their support, resources, and allow the foundation to use their logo. The next step was to find a venue.
The Merc store at State Street and Main was vacant at the time, where People's Furniture is now located, and Barber asked the manager if they could use the vacant space to have their event. After contacting the building owner, it was agreed that they could use the building as long as they left it clean and ready for an auction that was scheduled the following week. A little tid bit of information: that auction resulted in the sale of the building to what is now People's Furniture.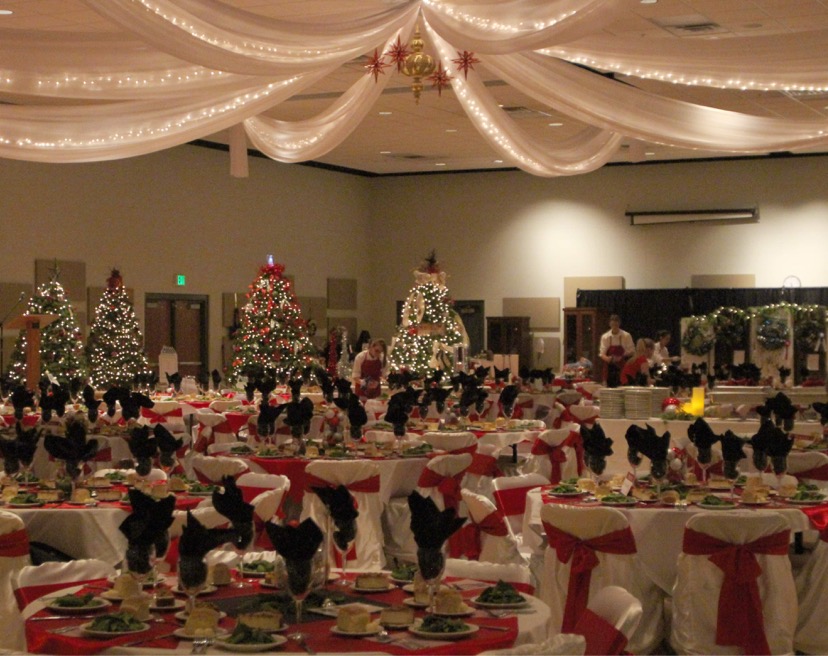 "Board members and volunteers cleaned and prepared the building.  Carlena Myers painted our windows with a Christmas greens theme.  Riley Scott and the men at the Heavy Equipment School made our wooden booth fronts.  The trees were purchased from State's Produce and the Beckman's," she explained.  Entertainment, crafters, and local artists came together.  Booths with holiday treats and ornaments were set up.  Barber also shared that the Kiwanis Club served hot cider and cookies.  "Santa was available to hear your Christmas wishes in a newly constructed North Pole house." 
The initial Board of Directors were: Helen Franklin, Sue Lowe, Peggy Gibbs, Margaret Fuller, Joy Beckman, Kay Butler, Marvin Trigueiro, and Barbara Barber. Other members added: Cathy Simerad, Frank Kline, Wayne Guyer, Joy Malay, David Franklin, and Bob Barber.
All of the trees in the auction eventually found homes and the new foundation had raised over $4,000. "With our initial Festival proceeds, first hospital equipment purchases were an air/oxygen blender and an infuser pump, both items needed to better treat the hospital patients," shared Barber.
Over the years, the festival has been held in various locations wherever they could find vacant space large enough. With the completion of the Vendome, the festival now has a permanent location every year. "Thank you to Mayor Don Stephan's' vision of the Vendome and the current city administration for such a perfect venue for everyone to now celebrate this event," Barber concluded.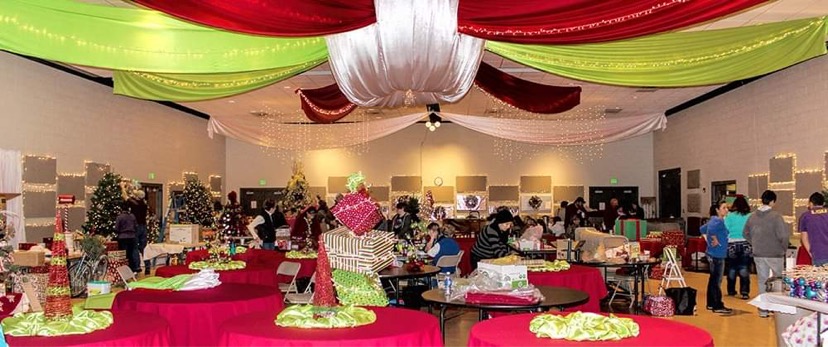 Barbara Barber shared her gratitude for all of the people who came together to create this vision, and to thank everyone who contributed to making the very first event a success. It takes a village of committed volunteers to put on an event like this and continue the tradition that has held strong for so long. Keeping the history of our traditions alive is an important piece of what makes Weiser so special.
34 years later, the WMH Foundation is getting ready to host another fantastic event! With the exception of last year's pandemic restrictions, the Festival of Trees has been going every year since the founding year. The 2021 Weiser Festival of Trees will be held LIVE and in a socially distanced format. December 1st will be the Gala Dinner and Live Auction, December 2nd is the Sip & Paint sponsored by Artful Bon's, December 3rd and 4th will be the Open House. Their online auction will run from Dec. 1st through the 3rd.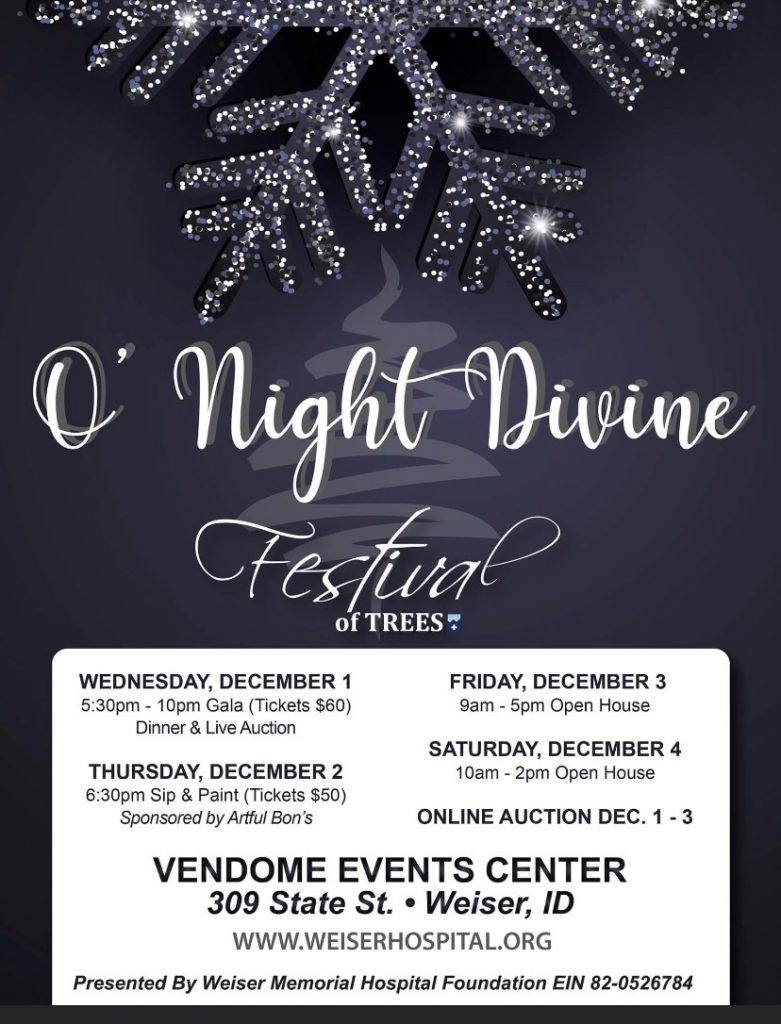 They are currently looking for sponsors, tree decorators, and volunteers. For more information, please contact the Foundation Office at foundation@weiserhospital.org or call 208-549-4410.