By F. Griffin Hale
For many seniors at WHS, their high school football career ended last weekend with a hard-fought win against Sugar-Salem at the Idaho State 3A Football Championship in Pocatello. For two of the team's captains, however, there's still one game left to play, as All-Stars at the 2021 Idaho East-West Shrine Football game.
Brett Spencer and Rylee Willet have earned the privilege to represent Weiser in the Shrine Game not only due to their prowess on the gridiron, but because of their leadership among their peers, and their dedication to their faith, families, and their community.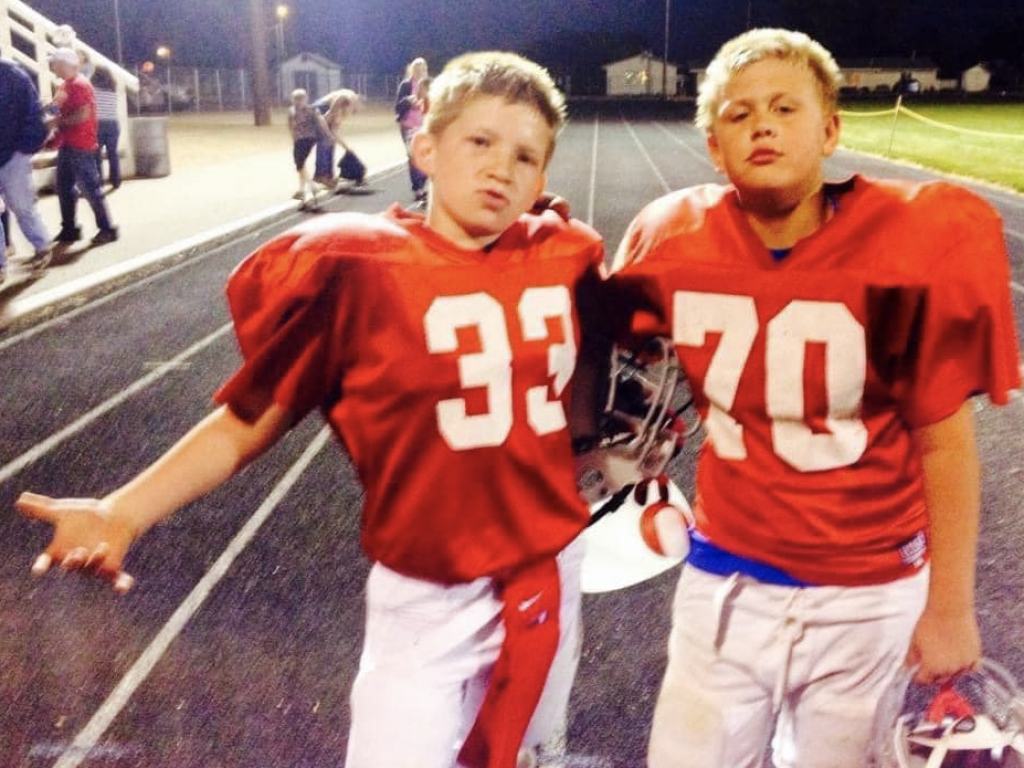 Teammates since third grade, when they were coached by their dads, Brett and Rylee both showed a talent for football at an early age. "From day one they stood out in everything they did, their effort, their athletic ability, their competitive drive," remembers Anthony Spencer, who says that his son Brett's dedication to the game, including special quarterback trainings since eighth grade, is second only to his devotion to his LDS faith, and to his family. "On one hand he's given it everything he's got, but not to the point of compromising the things that are more important to him," which his father adds includes striving to be a 4.0 student.
Brett, who hopes to play football at Boise State next year, says "family and faith are definitely my top two priorities," and adds "football is my love, but football is going to come to an end at some point in my life, and academics will hopefully carry me into the next chapter." He credits his family for instilling these values into him, and supporting him every step of the way.
Chris Willet, who along with Anthony has coached both boys on and off since grade school, says that Rylee and Brett have been together on every football team they've ever played on. "It's been amazing to see how much drive each of them has, for their teams," Chris says.
"I can remember Brett's always been my quarterback and I've always been his lead blocker," says Rylee, whose impressive extra-curricular and academic achievements include helping run his family's business, 5th Gen Willet Swine Farm, involvement in FFA and the Fellowship of Christian Athletes.
For both families, Brett and Rylee playing in the Shrine Football Game further strengthens the bonds between fathers and sons. Chris suffered a sports-related injury in 1994, and was a Shrine Hospital patient. Rylee says playing in the Shrine Game "makes me feel good knowing that by doing something that I love I can help others who are in need."
This opportunity is very personal for the Spencers. "When I played high school football, my goal my senior year was to be picked to play in the Shrine game," recounts Anthony, who was an alternate to the 1993 game, but ultimately didn't play. "To see Brett be able to play in this year's game, and accomplish something that I wasn't able to do is really cool."
The 24th Idaho East-West Shrine Game will be held on Saturday, November 27th, at Middleton High School. There are two games, an 8-man game at 11:00 am, and the 11-man game Brett and Rylee will be playing in starts at 2:00 pm. Tickets can be purchased at the game. Admission is $7 for adults, $5 for ages 17 and under, and students with activity cards get in free. All proceeds support the El Korah Shrine Temple's Patient Travel Fund, which provides free travel for local patients and their families to appointments with doctors and clinics at the Shriners Hospitals for Children in Portland, OR; Spokane, WA; and Salt Lake City, UT.