At 6:45 am on Saturday may 7th, 18 amazing student athletes loaded up on a bus with their rackets, umbrellas, and lunchboxes and headed to the district tournament in Parma Idaho. Weiser was the returning champion having won their first ever tennis championship the year before. Nyssa, Parma, Fruitland, Payette, Ontario, Four Rivers, Baker, Vale, and Weiser all sent their top 18 athletes for a total of 162 participants. At this tournament there are 5 different divisions. Three WMS boys participated in the Boys singles event, three WMS girls participated in the girls singles event. Two pairs of boys and girls each competed in the boys and girls doubles event, and two pairs of mixed doubles, one boy and one girl, also participated in the mixed doubles event.
Our 2nd team mixed doubles group was Grant Walker and Makenna Nagasaka. Both mixed doubles groups did extremely well. Both athletes on the second team were new to tennis having never played before. Grant, 8th grade, and Makenna, 7th grade, had played together a few times during the regular season and improved so much with each match they played. Losing their first game they would come back to win their second. They would eventually be put out of the tournament but not before adding to our over all team score. For first time tennis players what they achieved this season and how they did in the tournament is incredible.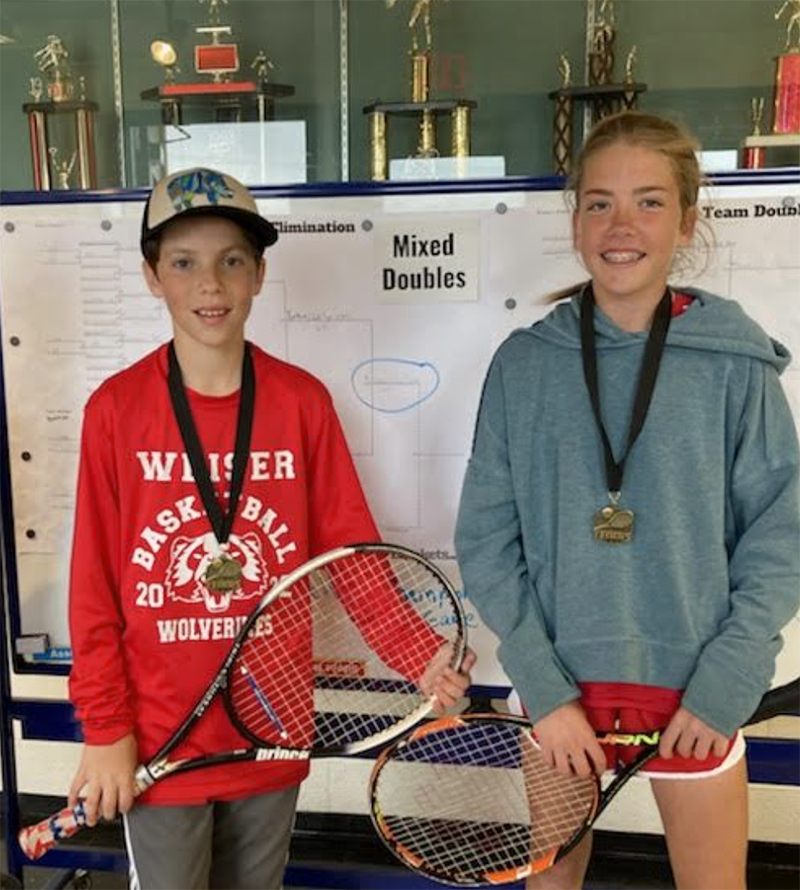 Our team 1 team mixed doubles contained our only returning district champion from last year. Adalyn Brush, 8th grade, and Nathan Price, 7th grade, were able to communicate very well to overcome some very challenging teams. They had previously lost to Fruitlands mixed doubles team during the regular season. This tournament they were prepared to win. A surprise would come as the fruitland team was beaten by last year's 2nd place team from Vale. Nathan and Adalyn would go on to beat this team twice. Coming from behind and out playing them. As the vale team began to tire Nathan and Adalyn kept the energy up, nailing their hits and completing their rallies. They would go on to be Weiser's first Champions of the tournament being undefeated.
Our 2nd team of boys doubles consisted of Shayd Crossley, 8th grader, and Alex Woods, 7th Grader. Both these young men had played together and practiced together. Their skill level had increased to the point that during practice they rivaled our first team doubles. These boys played amazingly at the tournament. Winning their first game they would go on to play some very tough teams. They would eventually be beaten twice and put out of the tournament but not before helping Weiser along with our team score. They should be incredibly proud of the way they played and completed as I know those who watched them play were extremely proud of the progress they had made.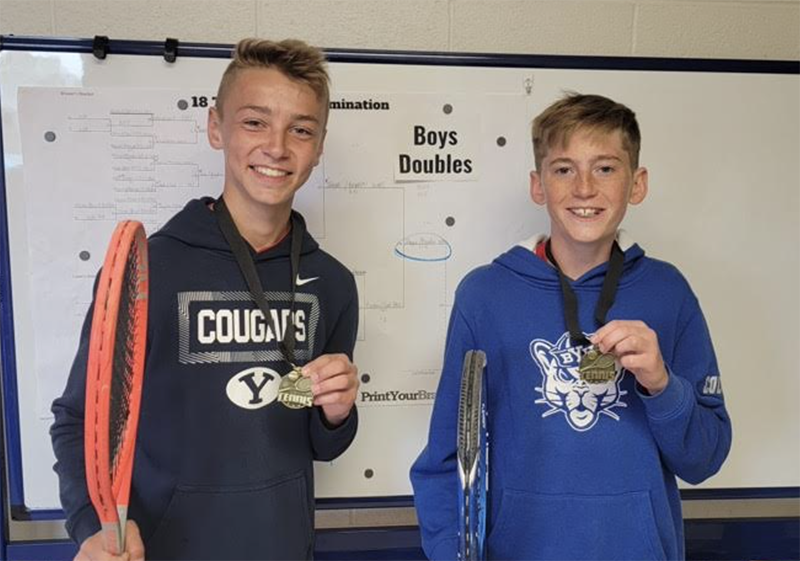 On Weiser's first team boys doubles we have Brayden Nordgren, 8th grade, and Thayn Blanchard, 8th grade. These boys started the season off playing together, then played singles for a while, then came back together towards the end to compete in the tournament together. These two young men are able to communicate and uplift each other when they each need it. After making it to the championship round they would play a very tough team in some very unpleasant weather. The wind was blowing so bad that if you were to try to hit it too high and lob it over the opponent the ball would go sailing out of the court. After some adjustments and some very good hits they would also come from behind to win their match and become Weiser's second district champions.
Weiser's 2nd girls doubles team were both 7th graders that had never previously been to districts. Avery Palmer and Kylee Mink had played all over during the regular season but came together for the last week or so and it was easy to see how well of a pair they were when it came to playing tennis. They did very well for their first time ever coming to a tennis tournament. They won some games, helping the team progress towards our team goal, and then lost some very difficult matches. This tournament was the best they had performed all season and it was very fun to watch them complete.
Weiser's 1st team girls doubles were also both 7th graders. Presley Williams and Claramae Olsen, like the two girls above, played all over during the regular season. They came together at the end to make a very good pair. With Presley playing back and Claramae playing net the team was almost unstoppable. They would lose their first
match to the team that would eventually take second. This team was very tough. The
week before Weiser had barely beat them 7-6. Today Weiser took them to 6-6 and then after a very tough and probably the tournaments longest tie breaker the team would lose barely. They played extremely well and should be very proud of themselves and what they were able to accomplish this year.
Weiser had three boys that participated in the boys singles event. Ammon Anderson, Grade 7, and Max Lattin, Grade 8, were lines 3 and 2 for the boys singles event. They both played extremely well facing some very tough opponents. The hardest opponent to face is usually your own teammate. This is the position that both these young men found themselves in. They had to play each other in order to continue in the tournament. It is tough to face an opponent that is good but when you have to face a friend knowing that one of you won't be able to continue it is extremely difficult. Both players played amazing and the match was very close. Both players after winning points for Weiser and helping the team would eventually be put out of the tournament. They played a very good match against each other and have made great progress throughout this year.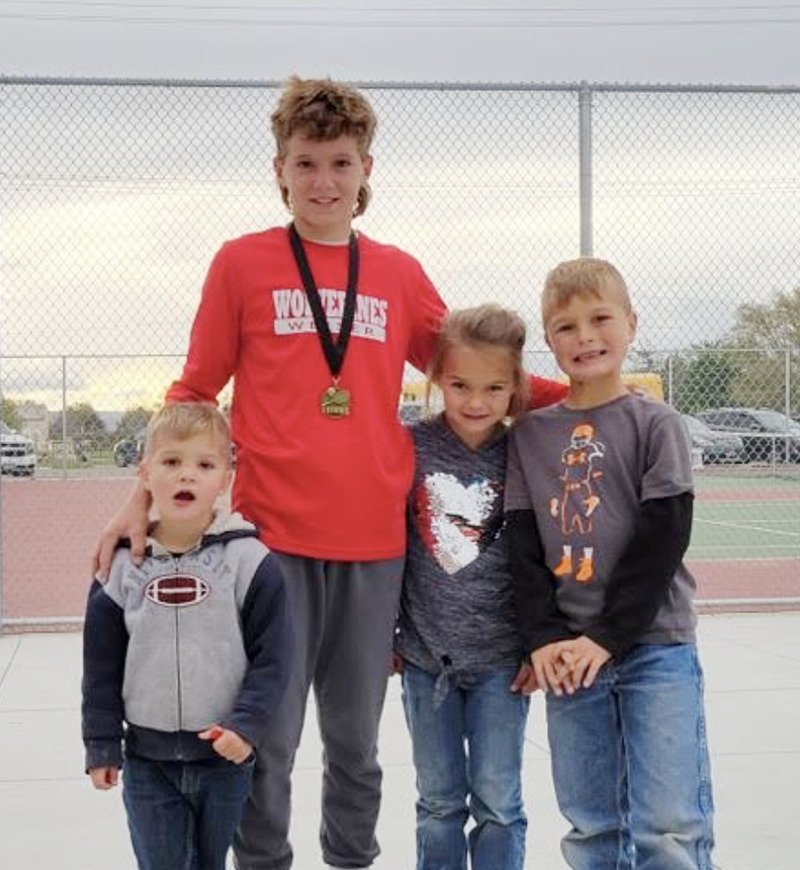 Klete Cook was the line 1 for the boys singles. If you have never watched Klete play before it is pretty amazing. Every hit of the ball is filled with confidence, it is going to go where Klete tells it to go. Klete had previously lost to Fruitlands singles players, who the entire district agreed was probably the best competition Klete would face. He approached this tournament like it was just another match. Each time he faced down his opponent it didn't matter who it was or what the score was. There were times when Klete would be down 1-5, all the other opponent had to do was score one point to win, but Klete didn't care. He would keep hitting the ball and wear his opponent down. The fruitland kid Klete had lost to during the season was beaten by the other fruitland kid twice. Again Klete didn't care who he played, he approached every match the same. He is a very smart player. He beat the fruitland kid twice, the last time coming from behind, to take another championship for Weiser.
Weiser also had three girls participating in the girls singles event. All three are 7th graders. Evelyn Rodriguez and Taylee Mink played lines 2 and 3. Both of these young ladies played so well. This tournament was the best I had ever seen Taylee play. She was put into girls singles after not playing singles much during the season but she took on the challenge and played each match like she had been playing singles all along. She lost two matches to the same girl that eventually took second but played amazing. Evelyn also played amazing. She was the first to win a match that day for Weiser and continued to win points for us as a team. She has been a very strong player all season long competing with our 1st girl singles player and giving her a good rivalry match. I could not be more proud of her and what she accomplished this year. She would eventually lose to the same girl Taylee did but after giving a great fight. We hope both of these young ladies will play again next year.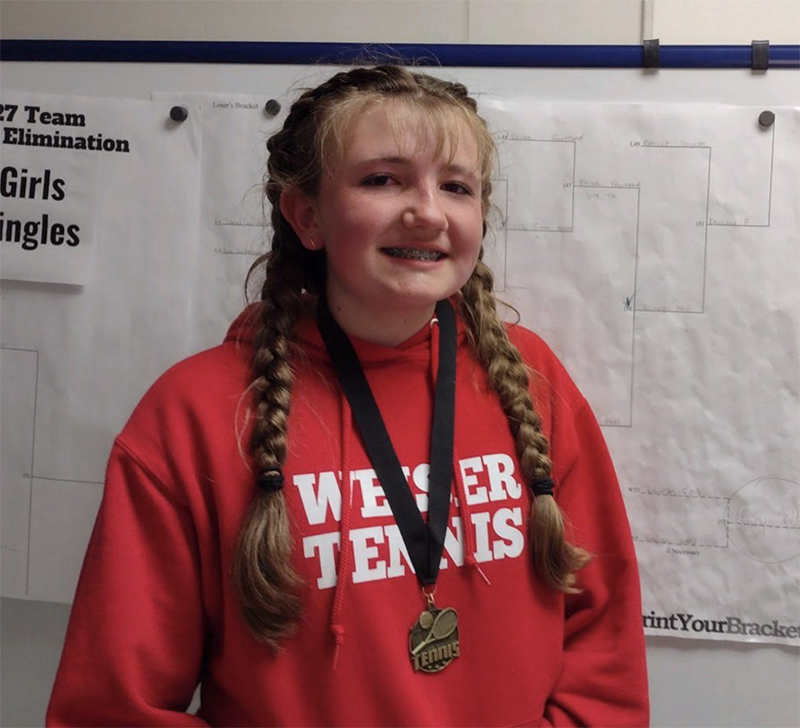 Our final athlete is Hailey Rux. She is a 7th grader and as mentioned before her and Evelyn went back and forth all season. I fully believe that she did so well just because she had Evelyn as someone to compete against all season long. These ladies really built each other up. Hailey would go on to play one of the most exciting matches I had seen all year. She made it to the finals and beat a girl, however because this is a double elimination tournament the same girl that had beat Taylee and Evelyn came back around, having already lost one match, to challenge Hailey. Hailey lost her first match 0-6. At this time everyone had left except Weiser and Fruitland. It is 7:30 and these athletes have been playing at this tournament for the last 12 hours. Both girls had now lost 1 match. The next match would decide who would be district champion. Like most of our athletes Hailey never gave up and with her team cheering her on she came back from being beaten 1-4 to win 6-4. Hailey was our 4th District Champion.
In the end Weiser finally left Parma that night around 8:30 having won 4 out of the 5 events. After adding up all the points Weiser was named district champions with a score of 139 points. Fruitland came in second place with 117 points, Parma in 3rd with 65 points, Vale in 4th with 47 points, Payette in 5th with 37 points, Baker in 6th with 27 points, Nyssa in 7th with 14 points, 4 Rivers in 8th with 13 points, and Ontario in 9th with 5 points. The team worked very hard to make this happen. I have never seen a group of young athletes with such love for the game. There were times when we would go to other schools and our athletes would wait around and be playing themselves even after the home team had already left. When it would rain and we canceled practice there were athletes out dodging puddles probably having more fun practicing in the rain than they did when the courts were dry.
At the beginning of the season we had 70 athletes. We didn't know how we would be able to coach them all only on 3 courts from 3:30 to 4:30. I'm sure we looked like we were trying to herd cats out on the courts. Every single, 6th, 7th, and 8th grader came out and decided every day they were going to work. They may not have had as much time as they would have liked but they made every minute on the court count. It is because of the entire team that we became district champions. There were 6th graders who were challenging the more seasoned players and really made those older players work for their position every day. We worked hard on the court and enjoyed every minute of it.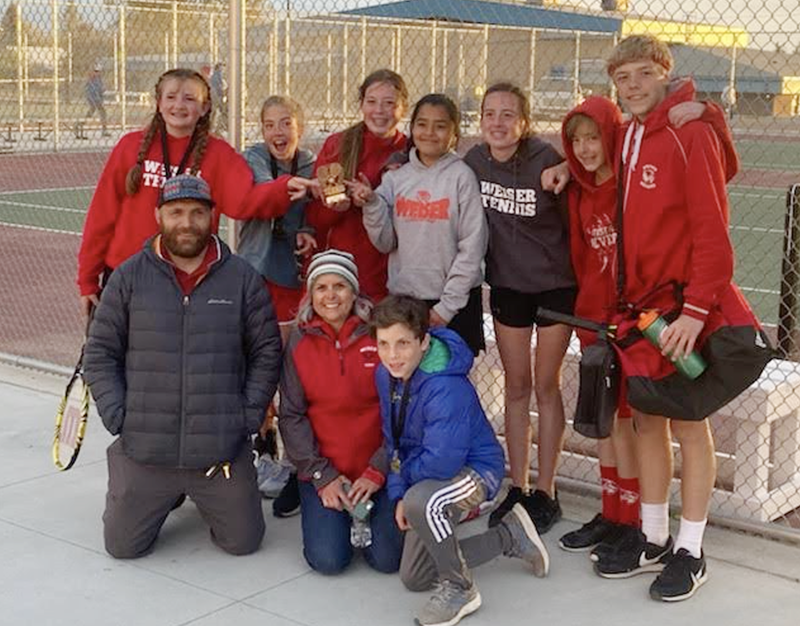 Thank you to all the students who came out and worked so hard this year. Half of the team were new 6th graders that had never played before. We hope you will continue to stick with it and improve your skills. It's not easy or very fun to play Weiser vs. Weiser but not many teams had the numbers we did. Thank you for working so hard and sticking with it. For the seasoned players thank you for the patience to help the newer players progress. We improve together and you have ensured that we will continue to have an amazing program. To all the parents, thank you for your support and patience. I made many mistakes but I appreciate all the feedback and the help you have given the team this year. Thank you for showing up to the games, sitting there for 2 hours, and watching your child play for 15 minutes. It may not seem worth the time but it means the world to these athletes. Thank you to all the high schoolers that devoted their time to come help these young players develop their skills. They learned from some great athletes. Thank you to Coach Price and Coach Woods for helping me navigate being a 1st time tennis coach. It was overwhelming at first but grew into something I truly looked forward to each day. Finally, thank you to the community for supporting your schools, students, and athletes.
-Coach Ryan Alder