By Quincy Clary
Mecarte Olsen signs to play softball for TVCC in the fall of 2022. While being a multiple sport student athlete and the eldest in her family, Mecarte has worked more than enough giving back to Weiser and our community. Playing softball has been Mecartes source of fun and the main root to her fun memories from her teammates. With years of dedication and hard work, Mecarte plans to complete TVCC in 2 years then transfer to a 4 year school to work and achieve her doctorate degree in animal science.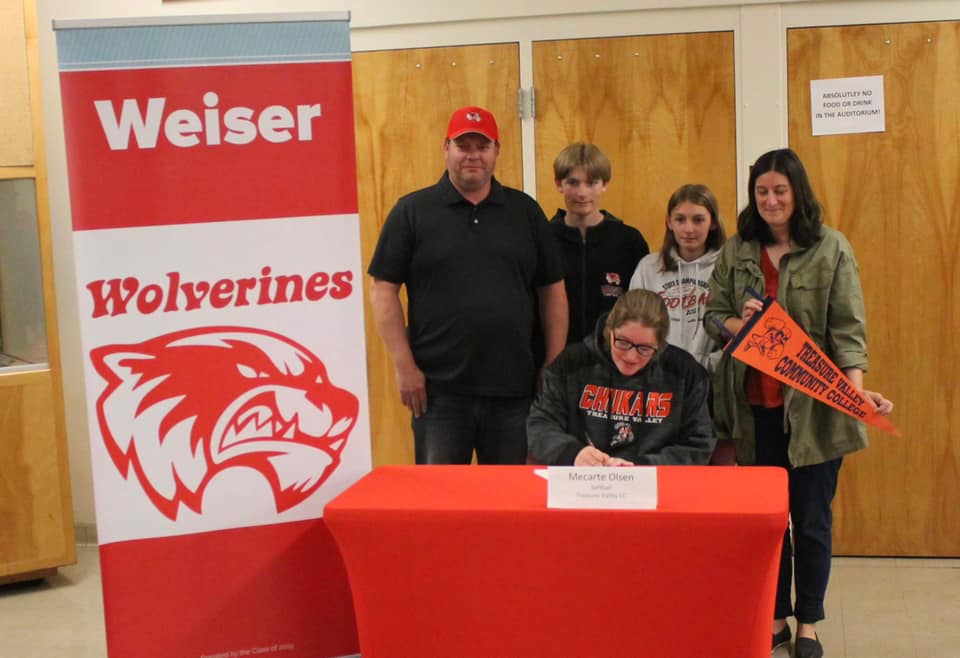 Mecarte has been hard at work in contributing to WHS. While maintaining a 3.92 GPA, Mecarte has participated in; FFA, FFA state degree, science club, Red Wave Club, 6 years of playing club softball, 4 years on WHS varsity softball, 2 years on the WHS Girls Soccer Team, 3 years of WHS basketball, a foreign exchange student in for the first semester of her senior year in Ecuador, cicily ambassador, high honor roll, and multiple out of school activities. These out of school activities include; attending youth groups, 4-H, WII Racing Pigeon Club, and numerous hours of community service towards Annex Charter School Fundraisers, HoHo Express, yard cleanups, volunteering in Ecuador, and so much more. Mecarte will continue to give to those around her as she goes off to college this fall.
Mecarte would like to personally say: "I would like to thank Wade Cores, Jason Noyer, and Brad Cordes for pushing me to be able to play at the next level. I would also like to thank my family for always supporting me and sitting through the thousands of softball games I have played throughout the years."
WHS thanks Mecarte Olsen for the outstanding example she has been for the past 4 years and wishes her nothing but the best.