On Friday, November 11th, the Weiser Community & Senior Center hosted a Veteran's Day celebration that honored two local veterans.  Eighty-seven-year-old Albert Alvarez was presented with a beautiful handmade Quilt of Valor thanking him for his years in the United States Army.  Unfortunately, the second honorary guest, Rick Heathman, was unable to attend the presentation on Friday but was presented with his own quilt on Tuesday, Nov. 15th.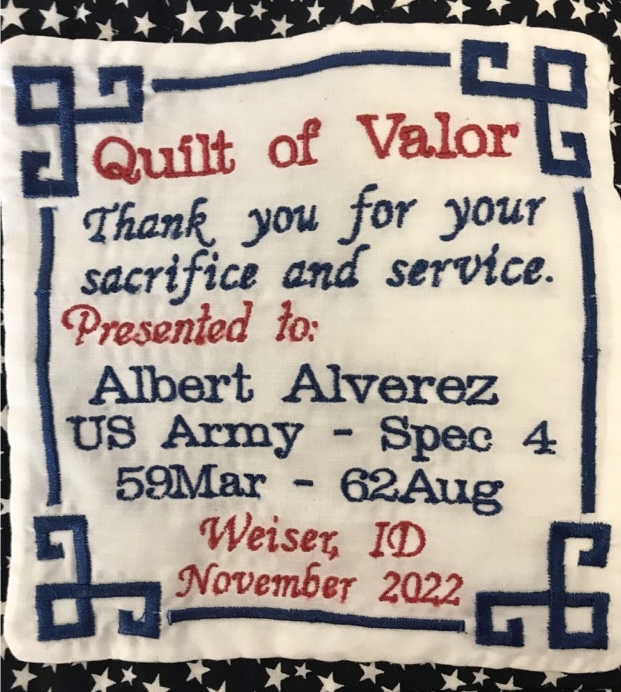 Alvarez is an Idaho native, born in Burley, Idaho in 1935.  He served in the United States Army from 1959 to 1962 and performed the duties of a teletypist.  The teleprinters were used in a variety of different communications media to carry administrative messages, information, weather reports, and other essential military information. For part of his time, Alvarez and his wife Elyssa lived in Germany, then Fort Bragg in North Carolina.  After that they returned to Idaho where his family was able to be with him and live off base.  They have two children together.
The Veteran presentation was a beautiful surprise for Alvarez, with a special prayer shared by Steve Scrivner.  The Quilts of Valor nonprofit organization was proud to present a beautiful keepsake quilt as a way to express our community's thanks for serving our country.  This particular quilt was made by the Sewell Sisters at Judy Ann's quilt shop in Weiser.  The quilt presented to Rick Heathman (not pictured) was made by Vicky McArthur.