State
Friday, March 3rd Weiser High sent five of their VEX Robotics teams to Pocatello to compete at State. Teams 9551A HIVE, 9551B Slug, 9551C, 9551E VEXED and 9551F Waldo got the opportunity to put their robots to the test against the best in the state of Idaho. All teams made it through the qualifying rounds to then go through the selection process. During this process teams 9551A and 9551B created an alliance. This alliance was the only set of teams from Weiser able to make it through the "Sweet 16" rounds, even with one robot losing their remote connection. They battled on into the quarterfinals but were not able to make the win they needed to to move on to the semifinals.
Worlds
Even though Weiser was not able to bring home the win for State, team 9551A HIVE, were able to secure an invite to the Vex World Championships. Team member Jayden Anderson explained how and why they received the invite. "When you go to the State competition there are five different awards that can qualify you to attend Worlds. You have the two tournament finalists, because an alliance has two teams. The Excellence Award, Design Award and Skills Champion Award. However, if one team receives multiple of those awards then the invitation is not only given to them but it moves down the Skills rankings from that tournament to the next team in line. Our team placed third at State in Skills. One team got both Tournament Finalist and Skills Champion and the other team received Tournament Finalist and Excellence Award. This made the invite go down two places on the list and we were the next team in line."
The Skills portion of the tournament is when only one robot is on the field. During this challenge the team has one minute of driver controle and one minute of autonomous driving in order to score as many points as they can. Autonomous control is where the robot has been programmed to score on its own. Team 9551A HIVE placed third at the State competition and is ranked 5th in the state for Idaho.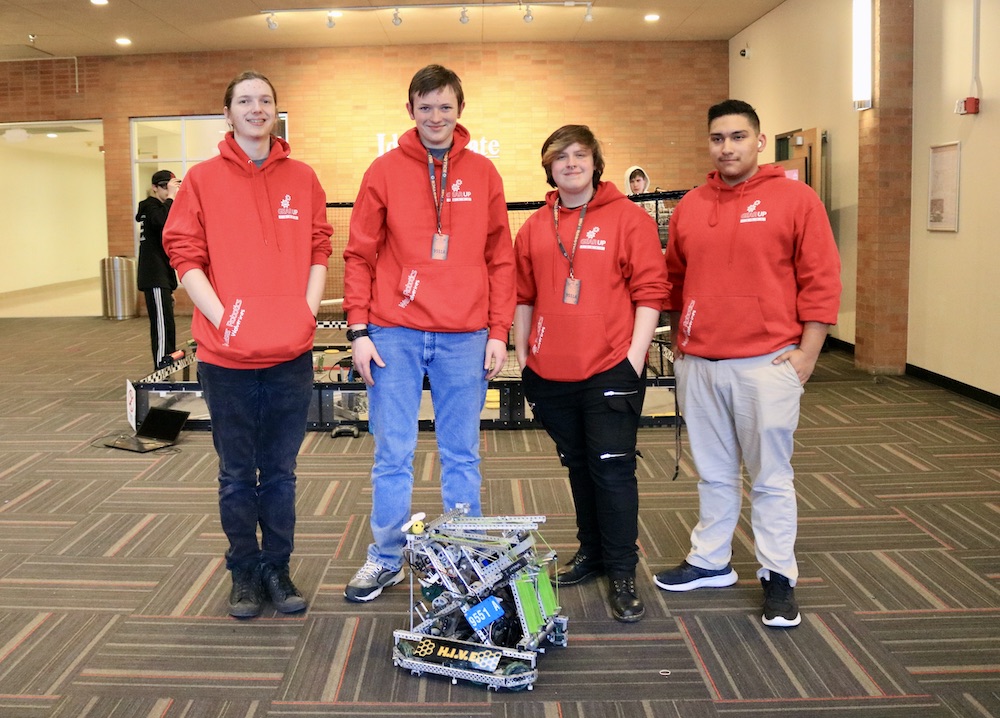 With the first place team's double qualifying team 9551A HIVE received an invite to be one of the teams from Idaho to attend and compete at the VEX Robotics World Championship that will take place April 25th – May 4th in Dallas, Texas. Team member Xzavier Gonzales shared his thoughts on how the team is feeling about this opportunity, "We are all pretty excited and a little nervous." Gonzales shared that he's nervous about going because there will be teams from not only all over the United States, but from all over the world. "You have those countries that you know are going to do better than others, like Japan and China. They have very big and strong robotics programs. Here we are a little team from Weiser here in America and we don't know how well we are going to do against those guys." The team shared that many countries like China and Taiwan have clubs or year round schools and have more time available to perfect their programming and robots. While these teams get a few months head start, team 9551A HIVE is a part of a Robotics class in school and they only get an hour a day and possible time after school if they can stay to work on their robot.
Even though the team is nervous about how their robot will perform against its competition at Worlds, the team is excited for the experience, "We are definitely excited to see the other robots and see what other teams from other places decided to do with their robots. To see how they built their robots and what they decided to go with. See what they felt worked best. Just being able to go and mingle with the other teams and interact with them is pretty exciting too," stated Gonzales.
Each team member on team 9551A HIVE plays an important role for the success of their robot, "Jayden here is extremely smart with math and all that. And I don't know about anything he does for the robot, but I can still be a functioning part of the team as the driver. William is good at building and Kade has amazing handwriting compared to the rest of us," stated Gonzales. Team member William Stalling heads the physical building of the robot, while Anderson is in charge of the coding and programming of their robot. Team member Kade Hill uses that "amazing handwriting" to log all stages and changes to the robot from start to finish. This log book is essential for earning points for the Excellence and Design Awards, as well as for the interview portion of all competitions. Team HIVE members know their limits, strengths and weaknesses and work together to build and compete with their robot. Gonzales wants others to know that, "Robotics is for everyone."
Congratulations to team 9551A HIVE and good luck at Worlds!