Thursday, May 11th the Weiser Middle School held their 2023 Junior Honor Society Induction Ceremony. Twenty-three seventh graders were inducted into the society with the traditional candle lighting representing the pillars of the Honor Society: Scholarship, Leadership, Character, Citizenship and Service.
This year's ceremony guest speaker, Miss Idaho, Sarah Jensen, spoke to the current and incoming members stating, "Each of you should be very proud of the dedication that it took you to get here today. I'm really excited to honor you with this accomplishment, but I also want to caution you, because your hard work does not end here. As a matter of fact, it's just the beginning." Miss Idaho continued sharing her experience having to compete for Miss Idaho five times before she won the title, with each year she learned and gained more experience and knowledge. She encouraged those in attendance to keep working towards their goals stating, "I became the woman that I am today and that's all because I Iost Miss Idaho four times. When the crown was placed on my head the victory was sweet, but it wasn't just because I had won, it was because I never gave up."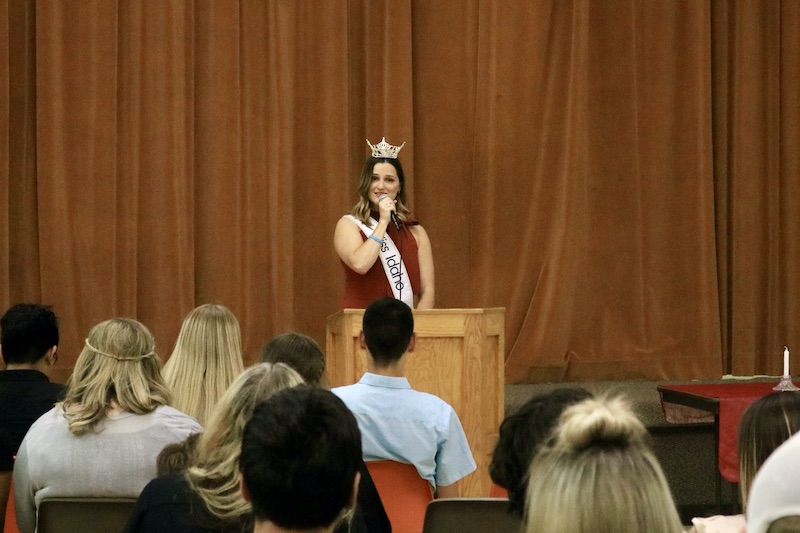 2023 Weiser Middle School Junior Honor Society:
8th Grade Members:
Aaron Aldrich, Ammon Anderson, Gia Apostoli,Kenny Babb, Tori Brown, Dustin Clark, Klete Cook, Zayn Crossley, Sayuri Garcia, Maddie Johnson, Alex Juarez Ruiz, Ryker McElroy, Kaylee Mink, Taylee Mink, Hannah Moyle, Makenna Nagasaka, Dolores Olivos Molina, Avery Palmer, Corianna Parsons, Nathan Price, Melissa Reyes, Alexis Riley, Evelyn Rodriguez, Paytyn Rrollins, Hailey Rux, Peter Shaber, Kaleb Sivero, Mariah Soliz, Benjamin Thomas, Brodey Tucker, Gerrett Walker, Presley Williams, Hazie Woodland, and Brendan Youngberg.
7th Grade Inductees:
Genesis Aburto, Reesa Alder, Reif Blanchard, Quinton Clark, Brooklyn Dille, Morgan Dobson, Bradley Ellingson, Kate Galligar, Aryel Garcia, Alyvia Goff, Jase Holvorson, Brodie Ingle, Avery Jennings, Landen Lerew, Brantlei McFetridge, Dean Meninga, Carter Nordgren, Mackenzie Phillips, Madeline Ragan, Sophia Shirts, Michael Strasser, Kynlee Sylvia and Everett Terry.
The Honor Society Pledge:
I pledge to maintain high academic standards, to behave with positive character and citizenship and to respect myself, my classmates and my school. I will endeavor to be a leader and give myself freely in the service to others. As a proud member of the  Weiser Middle School Honor Society I will represent the Weiser Way.
Photo album coming soon to Livinginthenews.com Facebook page.